Was a Springfield doctor guilty of killing two women via botched abortions in 1893? Juries said no, but newspaper editorial writers disagreed.
And despite the acquittals of Dr. John H. Lawrence, the boyfriend of one of the women was convicted of being an accessory to manslaughter.
The stories behind the trials demonstrate the dilemma an unmarried, pregnant woman faced at the end of the 19th century in central Illinois: either have her reputation ruined – the Illinois State Register called Stegmann "the victim of an operation to conceal the result of her sin" – or take her chances with an illegal, painful and sometimes fatal abortion.
Lawrence (1830?-95) was accused of performing illegal abortions on Emma Stegmann in July 1893 and Minnie Eagan that November. Both women died, and Lawrence was charged with murder. The Stegmann charges went to trial in February 1894. His second trial, in connection with Eagan's death, took place in April 1894.
Lawrence's team of attorneys – he had at least six – put together vigorous defenses in both cases. Family members provided alibis, and in the Eagan case, a parade of physicians, contradicting prosecution witnesses, testified they saw no evidence that she had undergone a physical abortion.
Emma Stegmann was a German immigrant. She had lived in Springfield about five years, according to her only local relative, an uncle, Herman Vogelsang. He told authorities his niece was "27 years old, weighed 125 pounds and was of fine appearance." She worked as a domestic servant.
Stegmann died on Saturday, July 15, 1893, at the house of a woman named Jessie Phillips – trial evidence later showed that Phillips was a madam, and the building was a house of prostitution. Stegmann's fiancée, Ben Fixmer, took her to Phillips' house when she began to feel sick.
Fixmer's trial on the accessory charge was closely watched, partly because he was well known – he was a partner in an insurance firm, and his brother had served as Springfield comptroller – and partly because it was a prelude to Lawrence's first trial, which started the next day.
Prosecutors produced witnesses who said Fixmer had told them he had gotten a woman "in trouble" and sought advice from a prostitute at another bawdy house about how to procure an abortion. Other testimony suggested Fixmer went on a hunting and fishing trip after abandoning Stegmann at Phillips' house.
According to the Register, Phillips testified that when Stegmann arrived at her house July 8,
The girl's skirts were saturated with blood and witness (Phillips) had to carry her to bed she was so weak. Fixmer said he would take her away next day and that Dr. Lawrence was attending her. She advised Fixmer to take the girl to a hospital, but both Fixmer and the girl refused. The girl said she had been pregnant almost three months.
Two physicians besides Lawrence were called to Phillips' house to treat Stegmann. One of them, Dr. E.S. Fowler, warned her she was dangerously ill and asked her what had happened.
She then said she had submitted to an abortion on Friday, July 7, but did not know the name of the doctor who had performed the abortion, but said his office was on East Washington street near the street car barns, and that he was an old fellow; that he had hurt her greatly in the operation and had given her some medicine, and had since frequently visited her.
Stegmann accurately described the location of Lawrence's office. He was 64 years old at the time.
Testifying on his own behalf, according to the Register, Fixmer said Stegmann was his fiancée, but their "relations … were chaste, and he always supposed she was of pure character." Stegmann had asked him to take her to Phillips' house, he testified, and that, far from abandoning her, he visited Stegmann several times before her death a week later. His hunting trip didn't start until after Stegmann died, he said.
Fixmer suggested Stegmann had been impregnated by a romantic rival he knew of only as "Fred."
The jury didn't buy it. Fixmer was convicted and sentenced to 10 years in prison.
Jurors who heard testimony against Lawrence, however, quickly found him not guilty. A key reason, the Illinois State Journal reported, was Judge Robert Shirley's decision to exclude Stegmann's statement to Fowler from evidence in the trial. Her description of the doctor who performed the abortion was hearsay, not a true deathbed statement, Shirley ruled.
Lawrence's second trial, for the death of Minnie Eagan, took place in April. In that case, Lawrence was accused not only of performing an abortion – Eagan was estimated to have been five months pregnant – but of disposing of the fetus.
"Another poor girl has risked her life to hide her shame, and today lies beneath the soil at Calvary Cemetery," the Register said in its lurid first report of her death.
Eagan, age 18 and described as "quite handsome," worked as a chambermaid at the Leland Hotel. She died at St. John's Hospital on Nov. 30, 1893. She had delivered the fetus a week earlier at the Brunswick Hotel, where she had registered under a false name. The physician who attended Eagan at the Brunswick, Dr. W.P. Armstrong, said his examination convinced him the miscarriage was due to an abortion.
The day she died, according to the Register's trial story, Eagan told three witnesses "with a full conviction of impending death" – a reference to Shirley's ruling in the Stegmann case – that Lawrence had performed the abortion. The father was Harry Muttera, a well-known saloon owner, according to Eagan's statement.
Minnie declared in her dying statement that Harry Muttera gave her $50 through Attorney John C. Snigg to release him in case anything should happen to her, and said to her, "Go get rid of it."
A grand jury later declined to indict Muttera.
The fetus was put in a trunk in Eagan's hotel room, where her brother-in-law, James Young, retrieved it two days later. At Eagan's request, he took the body to Lawrence's office, Young testified.
Lawrence confessed that he performed the operation, and … asked who saw the witness taking the box there, or if he told anyone about it. When told he had not, Lawrence said, "For God sake, don't tell anybody." The witness left the box and contents with Lawrence and returned to the hotel. …

Young said that he asked Lawrence, "What are you going to do with this?" meaning the child, and Lawrence replied, "Nobody will ever see this."
The defense team produced four doctors who examined Eagan's "vital parts," which were preserved in alcohol. All four said they saw no evidence to prove Eagan had undergone an abortion. A fifth physician, Dr. I.H. Taylor, said he had participated in Eagan's autopsy and he did not think her death was the result of "a criminal operation." (Prosecutors had presented other doctors who had been at the autopsy; they said Eagan had been the victim of a botched abortion.)
Testifying in his own defense, Lawrence said Eagan had visited his office several times and told him she "was in trouble and wanted the doctor to help her." She didn't want her mother to know about her condition, Lawrence testified, but he refused to perform an abortion. At a later visit, he said Eagan told him "she had done all in her power to bring about an operation herself and had taken a pint of turpentine."
"Dr. Lawrence asserted that he had never used an instrument or given any medicine to her for the purpose of transgressing nature," the Journal reported.
Lawrence was acquitted again, but this time, it took jurors 17 hours to reach a verdict; on the first ballot, in fact, the jury split 7-5 for conviction.
In an editorial, the Register called the verdict "a great disappointment to the public."
There is a well-defined belief, amounting to a practical certainty in the minds of the people of this city that Dr. Lawrence was not only guilty of the act with which he was charged in the Eagen (sic) case, but also in the Stegmann case, and in other cases which never reached the courts. …

The verdict is "not guilty," however, and Dr. Lawrence goes free. It is an inscrutable decision, but it is final, and the beneficiary is lucky indeed. … But it is a still more lamentable fact that this verdict will have the effect, wherever its influence is felt, to encourage a nefarious practice, and thus add many to the numberless victims.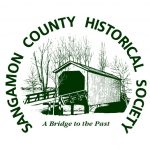 Eagan is buried at Calvary Cemetery and Stegmann at Oak Ridge Cemetery, both apparently in unmarked graves. Lawrence, who died 19 months after his second trial, also is buried at Oak Ridge.
Similar cases: See Abortion death trials, 1949 & 1951.
Original content copyright Sangamon County Historical Society. You are free to republish this content as long as credit is given to the Society. Learn how to support the Society.