The 1893 World Columbian Exposition in Chicago inspired the so-called City Beautiful movement that dominated urban planning in the U.S. and abroad until well into the 1920s. One of the more successful City Beautiful planners in the Midwest was Myron West of the Chicago firm American Park Builders. West was commissioned by a reformist Springfield Zoning and Plan Commission to draw up a plan for the improvement and extension of the capital city.
The resulting document was adopted in 1924 as Springfield's first official city plan. The text, along with photos, maps, and original watercolor and pen-and-ink drawings, was bound into a handsome book and published in 1925.
West's plan for Springfield was in effect an attempt to make Springfield worthy of Abraham Lincoln. West asserted that the city's Lincoln sites were "too much like islands, with wastes between." Giving Lincoln's memory its due, he argued, also would promote "culture, refinement, the appreciation of art, and, in general, the better things of life so that civic pride will be aroused."
West proposed a system of formal boulevards. A gateway rail station on 18th Street (now Martin Luther  King Drive) would anchor one end of a "stately parkway" — a widened and landscaped Capitol Avenue — that would terminate on the west at the present Capitol; from the Statehouse a second ceremonial boulevard would run north to Oak Ridge Cemetery and Lincoln's Tomb.
A  seven-square-block "National Patriotic Center" would be centered on the Lincoln Home, with civic buildings lining Seventh and Ninth streets amidst formal gardens complete with a block-long reflecting pool; at the northern end of this ensemble West placed an open air theater where the spoken word of Lincoln might be commemorated. The result was a composition he promised would be "truly imposing in character."
However, the substance of West's plan consisted of 78 pages of proposed nuts-and-bolts improvements to the city's sanitation, parks and transport systems, including a rationalized and expanded streetcar network. Clean water, efficient transport and convenient freight handling were musts in progressive cities, along with schools, parks and libraries, he said.
Springfield in the 1920s was badly polluted, mainly by coal smoke and privies, and the public water system supplied Sangamon River water that would not today be considered fit to drink. West proposed a system of greenbelts along stream courses of the Sangamon and its tributary creeks, a pleasure driveway that ambled along the Sangamon to New Salem, and a new water supply lake. He also proposed that the Sugar Creek valley be purchased and maintained as a municipal preserve.
West echoed Chicago planner Daniel Burnham's famous exhortation to "make no little plans" when he wrote, "A little plan would not meet the expectations of the public that reveres (Lincoln)."
Few of West's proposals, apart from the new lake, were carried out at the time, and many remain undone today. However, reflections of his ideas have been revived in more recent city improvements. Capitol Avenue has been "streetscaped" with plantings and quotation pillars; plans were put in motion to relocate city railways; and changing energy sources and general sanitation improvements have eliminated the most obvious sources of 1920s pollution.
Contributor: James Krohe Jr.
Source:  City plan of the city of Springfield, Illinois as prepared by Myron Howard West and staff of the American Park Builders ; under the direction and approval of the Springfield Zoning and Plan Commission, Manz Corp., 1925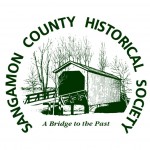 Original content copyright Sangamon County Historical Society. You are free to republish this content as long as credit is given to the Society.