A work disappointment sent James Young into an emotional crisis on Jan. 11, 1938, culminating in the deaths of both Young and Springfield Police Detective Patrick Gilmore.
Florence Young told officers later the incident began that morning, when her husband took a check from his bankbook and scrawled "SGHM" on it. When she asked about the initials, James Young replied they signified, "So God help me." Someone was "after him," he said.
Young, 33, was a chemist for the Central Illinois Public Service Co. His mental problems reportedly began after an auto accident he had been involved in eight years earlier. They got worse shortly before the killings, when he failed to receive a promotion at work.
Young began walking around the couple's house at 732 Woodland Ave., turning off lights.  He then grabbed a shotgun, threatened his wife and barricaded both of them in the home.
When a taxicab pulled up in front of their house (the driver was looking for a nearby address), Young fired shots at the vehicle. Two of them stuck the cab's interior and grazed the driver. The driver quickly drove away and notified  police.
At that point, according to police reports, Young went "berserk." During the chaos, his wife slipped out of their home and went to a neighbor's house. Young became even more enraged when police officers arrived. He threatened to shoot them all if they did not leave his porch.
Sheriff's deputies and city officers surrounded the house. Authorities tried several times to contact Young, ordering him to come out of the house with his hands in the air. He refused.  Police fired tear gas into the house. The first volley had no effect on Young, but the gas was too thick to allow police to enter the residence.
Two hours into the standoff, police fired more gas and tried again to enter the home, begging Young to drop his weapon. Instead, Young took shelter in his basement.
Officers decided to break through the back door while Young, who had moved to the dining room, was distracted at the front door.
Young fired his shotgun as Gilmore and other officers tried to enter the back door. Gilmore took the full force of the shotgun blast in his side, chest and right hand.
Police returned fire, and Young was mortally wounded.
"Mrs. Young witnessed the entire proceedings from across the street. She became hysterical as police dragged her husband out of the house," according to news reports.
Florence and James Young had been married less than 18 months at the time.
Nearly 700 people, including a special delegation of 50 Illinois State Police, attended Gilmore's funeral at Third Presbyterian Church. Mayor John "Buddy" Kapp gave the eulogy.
Gilmore had been a member of the Springfield Police Department since 1930. Chief of detectives Clarence Jesberg called Gilmore "one of my best men."
Gilmore, 37, is buried at Roselawn Memorial Park east of Springfield.
Private services were held for Young. He is buried at Oak Ridge Cemetery.
A coroner's inquest ruled the police shooting was justifiable homicide.
In the days following the incident, the Illinois State Journal editorialized for the city to modernize police equipment, including buying body shields. The police department purchased body shields later that month.
Note: Patrick Gilmore had been a pallbearer at the funeral for Detective Porter Williams , who was killed in the line of duty in 1932.
Contributor: William Cellini Jr.  A member of the Cellini family was a Springfield police officer at the time and was present at the killings of both Porter Williams and Patrick Gilmore.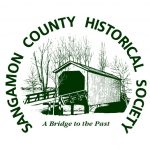 Original content copyright Sangamon County Historical Society. You are free to republish this content as long as credit is given to the Society. Learn how to support the Society.