The five limestone columns that face the courtyard of the Washington Park Horticulture Center make up the last exterior remains of Springfield's old Carnegie library.
Andrew Carnegie paid part of the construction cost of the old library, which opened in 1904 at Seventh Street and Capitol Avenue. The building was faced with Bedford limestone from Indiana, including six massive columns spaced across its Seventh Street side.
The Carnegie building was torn down in 1974 to make room for a modern, more efficient library. Officials saved a few interior fixtures, including a nine-foot-tall grandfather clock that once stood on the stairway landing above the entrance to the old library. However, it took citizen donations to preserve the exterior columns and then to install them in the park.
In an effort led by Ralph Bowen, contributions from individuals and the Sangamon County Historical Society paid to take the columns off the building. In the process, however, one of the original six columns slipped out of a pulley. It fell to the ground and broke into pieces.
The original plan was to use the five remaining columns in a theater proposed for Washington Park, but the park district failed twice to obtain grants to build the theater. Bowen's group then donated the columns to the Roman Cultural Society, which provided the funds to install a garden in front of the Horticulture Center. The garden was one of the society's annual civic improvement programs, former president Joe Alessandrini said when the garden was finished in 1979.
Park officials "had been wanting to develop a garden to screen the horticulture building and complement the rose garden," Alessandrini told an Illinois State Journal reporter.
The garden, designed by architect Richard Stockbarger, contains floral plantings that are changed seasonally.
A plaque in front of the columns recognizes the Roman Cultural Society, the historical society and the citizens who contributed to the preservation effort.
Ralph Bowen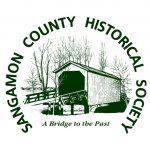 Ralph Bowen (1904-89), was a career music teacher and co-founder of the Rees Carillon Society, which supports the carillon in Washington Park. The Roman Cultural Society Garden sits in the shadow of the carillon.
Original content copyright Sangamon County Historical Society. You are free to republish this content as long as credit is given to the Society.