On March 7, 1877, the Illinois State Journal published an article informing readers how to operate a telephone invented by Alexander Graham Bell, the Scottish-born inventor today credited with patenting the first operational telephone device in 1876.
The first telephone to arrive in Sangamon County, however, was a battery box model created by another man, Elisha Gray, which was demonstrated in Springfield in February 1878. Although Gray ultimately lost out to Bell for telephone fame, he also invented a variety of telegraph devices, and one of the offshoots of his ingenuity, Graybar Electric, eventually set up a distribution center in Springfield.
Gray (1835-1901) sued Bell over similarities between Bell's patent and the a "talking telegraph" Gray had submitted to the U.S. Patent Office.  Bell received the patent as well as the notoriety and went on to co-found the American Telephone and Telegraph Company in 1885.
Gray, meanwhile, partnered with Enos Barton, who had worked with Western Union. Their business, Gray & Barton, began in Cleveland, Ohio, and later moved to Chicago. When the Western Electric Co. was incorporated in 1872, it consolidated Gray & Barton along with other small telegraph manufacturing companies.
Western Electric created its Graybar Electric division (combining the surnames of Gray and Barton) in 1926, and Graybar became the largest merchandiser of electrical equipment and supplies in the world.
Graybar began operations in Springfield in 1953, building an office and warehouse at 405 N. MacArthur Blvd.  When the $160,000, 345,000-cubic-foot building opened, company officials said Graybar handled electrical products from 600 manufacturers. The company slogan was "Everything Electrical." The first local manager was Harry Bryson.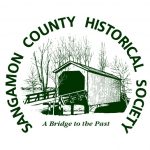 Graybar Electric relocated to 2205 Wabash Ave. in 2002. Valco, which produces  trophies, plaques and medals moved into the MacArthur Boulevard building in 2004.
Contributor: William Cellini Jr.
Original content copyright Sangamon County Historical Society. You are free to republish this content as long as credit is given to the Society.