Washington Iles (1800-71) was often overshadowed by his older brother, Elijah, Springfield's pioneer merchant and civic leader. But Washington also was a respected, active citizen of the city.
The brothers were in step with each other in many of their activities. Both served as volunteers in the Winnebago Conflict and the Black Hawk War. Both were involved in supporting the effort to bring the steamboat Talisman up the Sangamon River to Springfield. Both purchased large amounts of federal land, sold Springfield town lots and had agricultural interests. They each signed the agreement to help finance the building of the State Capitol and donated funds towards the building of churches, no matter the denomination, and for constructing schools. Building a strong community was a mutual goal.
Washington may have taken his older brother's lead in some ways, but he was considered a trustworthy, competent, independent public servant. It was Washington, for instance who was named treasurer of the town of Springfield when it was governed by a board of trustees. He was called by his peers to chair a meeting seeking subscriptions for stock in the Alton and Springfield Railroad. He served as a trustee and for a time president of the Springfield Academy, a high school for both boys and girls. And he was elected one of Springfield's first aldermen in 1840, after Springfield officially became a city.
Washington had a longtime interest in agriculture, especially the raising of purebred livestock. Throughout his life he participated in the Agricultural Society, sometimes as one of its officers and often as a winning competitor in the county and state fairs. To promote further improvements in cattle production, he was a stockholder in the Illinois Stock Importing Association.
Washington Iles ventured in and out of the mercantile trade, moving into Springfield to live and work and then back to his farm. One of his enterprises later in life was development of the Iles Junction area. (Iles Junction was where railroad tracks owned by the Wabash Railroad crossed those of the Chicago & Alton at Iles Avenue between First and Fourth streets.) He built a grain elevator along the railroad tracks and a warehouse and store nearby.
Part of one of Washington Iles' farms bordered Springfield city limits, and he platted an addition onto the city (just one of several Washington Iles additions to Springfield).
Washington Iles died July 4, 1871, after about a year of living with some paralysis. He and his wife Ann had a wealth of descendants. A great-great-granddaughter, the recently deceased Phyllis Herndon Brissenden (1933-2020), was a volunteer, porch-chatter and supporter of the Elijah Iles House Foundation. (Uniquely, Brissenden also was descended from Charles R. Matheny, Sangamon County's first official and first president of the town board of trustees.) At her death in January, Brissenden left heirlooms from some of her other prominent local ancestors to the Iles House.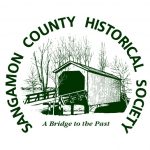 Contributor: Linda Garvert. A longer version of this article appears in the Spring 2020 edition of The Iles Files, the newsletter of the Elijah Iles House Foundation. For more information on the Iles House and the foundation, go to IlesHouse.org. Our thanks to Garvert for permission to republish this excerpt.
Original content copyright Sangamon County Historical Society. You are free to republish this content as long as credit is given to the Society.