Perce Point, a headland on an island on the west edge of Antarctica, commemorates a Williamsville man's role in exploring some of the last unknown places on earth.
Earle Baker Perce (1910-68) was a U.S. Navy radioman and pilot when he joined the U.S. Antarctic Service in 1939. President Franklin D. Roosevelt's vision was that the USAS would prepare the way for a permanent American colony at the bottom of the world. Roosevelt enlisted famed polar explorer Adm. Richard Byrd to head the expedition, which would be Byrd's third trip to Antarctica.
The colonization idea fell by the wayside as America grew closer to joining World War II. In the end, the USAS returned home early (and Byrd even earlier). But during the year he spent on the ice, Perce was co-pilot on a series of flights that mapped much of the western edge of the Antarctic continent.
Byrd, whose fame is based on him being the first person to fly over both poles (his North Pole claim is disputed), took four airplanes with him. Pilot Ashley Snow and co-pilot Perce, along with several other expedition members, sometimes including Byrd, did aerial explorations over vast areas of Antarctica. According to Perce's later commendation for the Distinguished Flying Cross:
Chief Radioman Perce served as Co-Pilot and Radio Operator for the airplane on many of the flights during which new mountain ranges, islands, and 700 miles of previously unknown Antarctic coast line were discovered. These flights were made over heavy broken pack ice where a forced landing would have resulted in a crash, and where rescue would have been practically impossible.
The exploit for which Perce and Snow became best known, however, involved two flights they made on March 22, 1941, after orders had been received to shut down the expedition. The USAS had two bases on the continent, known as West Base and East Base. A support ship picked up crew members from West Base, but sea ice was too thick to reach East Base. So Snow and Pierce evacuated the 24 men at East Base – along with their equipment and seven sled dog puppies –in two separate 250-mile round-trip flights. His DFC commendation says:
Particularly outstanding in aerial achievement was the final evacuation of the personnel from the East Base on 22 March 1941. In the successful accomplishment of this hazardous undertaking, Chief Radioman Perce demonstrated an unusually high degree of sound judgment, courage and professional skill which reflects great credit upon the Naval Service.
The plane landed on ice near the shore of Mikkelsen Island, and the East Base crew members were then lowered 200 feet by ropes to a whaleboat that took them to the ship that would transport them home.
Perce and Snow, a wire service story reported a couple of months later, modestly described the rescue flights as "exceptionally good luck all the way round."
Feted back home in Williamsville in July 1941, Perce made it clear he had no interest in further polar exploration. As the Illinois State Journal reported, he said:
If the government ever seeks an emblem designating service in the Antarctic, I'm certain they will select crossed snow shovels. Ninety percent of the work down there is shoveling snow. It frequently is twenty feet deep.
The cold was bitter (temperatures reached as low as 78 degrees below zero), he added, and the USAS's dehydrated food was bad. "I'd sooner eat a bale of clover hay," Perce said.
Perce was an athlete and student leader as a student in Williamsville. As Doug Pokorski reported in a 2000 State Journal-Register profile, Perce played sports, was president of the high school student council, was an honor student and won the school citizenship award.
According to the San Diego Union, Perce was a star basketball player when stationed with the Navy in San Diego. He also apparently competed in Navy track and field events. (At least one report says Perce was runner-up in U.S. Olympic decathlon trials, but that seems to be incorrect. For one thing, it says Perce competed in 1929, when there was no Olympics. His name doesn't show up in Wikipedia listings of decathlon trials competitors for 1924, 1928 or 1932.)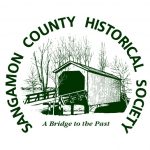 Perce remained in the Navy after the USAS, serving during World War II and the Korean Conflict, specializing in navigation technology. He retired in 1960 with the rank of commander. Perce died in Blackshear, Ga., and is buried in Waycross.
Original content copyright Sangamon County Historical Society. You are free to republish this content as long as credit is given to the Society.