In 1898, brothers Louis and Harry Coe, together with Ward Carter, organized Coe, Carter and Coe, a retail book and stationery store on the northeast corner of Fifth and Monroe streets. The business, at two different addresses and under three different names, would be in operation for another 90 years.
Both Louis (1867-1928) and Harry Coe (1869-1912) previously worked at the Frank Simmons Art & Book Store at 124 S. Sixth St. Carter withdrew from the partnership in 1901, and the store became known simply as Coe's Book Store.
Despite the name, Coe's also sold office supplies, fountain pens, "Kodaks" (cameras), sporting goods and newspapers. Boys with bicycles were hired to deliver newspapers daily to homes throughout the city. As early as 1910, Coes had one of only two darkrooms in Springfield for developing and printing black and white Kodak film. The business prospered.
Harry Coe died at age 42 in 1912, but the business continued under the management of Louis Coe. He relocated the store in 1922 to the Ferguson Building on the southwest corner of Sixth and Monroe streets. At first, Coe's occupied the west half of the first floor and the Clarkson (later the Denton) Drug Store operated from the east half. Coe's expanded to take over the entire first floor corner when the Denton Drug Store went out of business.
Louis Coe died at age 60 in 1928, and the business was purchased by Edward McFarland (1863-1936), his son J. Glenn McFarland (1900-70) and George Wertz, although they kept the name Coe Brothers. Wertz later bowed out of the bookstore business. After the elder McFarland died, his son operated the store very successfully for more than 30 years.
Coe's underwent a major renovation in 1955 to become one of the most modern stores in central Illinois. The store also was air-conditioned at the same time. By then, Coe's had 17 employees and still sold a variety of items in addition to books: office supplies, office furniture, stationery, greeting cards, fountain pens, cameras, art and drafting supplies and gifts.
Many employees remained with Coe's for years.  Chester Sweet (1901-82), for instance, hired by Louis Coe in 1920, remained with the store for more than 50 years. Clarissa Hagler Jorgenson (1902-85), the store's expert on literature, headed the books department for 35 years.
The beginning of each school semester was a very busy time; originally, all the school children in the city had to buy their books at Coe's. Even after the Springfield public schools began offering rental books in 1940, many families continued to buy their children's schoolbooks at Coe's.  Coe's also bought used textbooks from parents to sell to families in the next school year.
McFarland hired Glen D. Rogers, who would later become owner of the store, at age 18 in 1949. McFarland retired in 1965, and Rogers was named general manager. He bought the business, which continued to operate as Coe's Book Store, from McFarland two years later.
Coe's was especially attractive at Christmas time, when it was decorated, inside and out, with real evergreen roping, red and gold bows and piped-in Christmas music.
Rogers sold the store in 1973 to the Haines and Essick Co. of Decatur, and the store name finally was changed. Haines and Essick closed the shop in 1988. As of early 2020, the former Coe's space housed Vele, an upscale restaurant.
Lindsay poem
Vachel Lindsay wrote the following unpublished poem about Coe's Book Store, possibly about 1916. Lindsay scholar Dennis Camp discovered the poem while doing research at the Clifton Waller Barrett Library at the University of Virginia. He presented it to Coe's.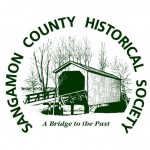 A Passionate Tribute to Coe's Book Store
Coe's Book Store is a cozy place –
A shelter for the human race.
Coe's Book Store is a Mermaid Tavern
An Ariel and Miranda's cavern,
Emporium of printer's ink
Of books we think will make us think
We buy a pencil or a pen
Then stop to chat with friends again –
We wait for street cars when it showers
Then read the magazines for hours.  
Contributor: Glen D. Rogers (former owner and manager of Coe's Book Store)
Original content copyright Sangamon County Historical Society. You are free to republish this content as long as credit is given to the Society.