People experienced the second earthquake in recorded Sangamon County history on Thanksgiving Day 80 years ago. The quake hurt no one and caused no damage. But it did restart Joseph LaVoo's eight-day clock.
The quake struck at 9:30 a.m. Nov. 23, 1939, hitting Missouri, Iowa, Kansas and Wisconsin in addition to Illinois. The center was in Illinois, a few miles southeast of Crystal City, Mo.
Readers flooded newspaper switchboards with phone calls after the quake, the Illinois State Journal reported.
"Many housewives, preparing the festive dinner, rushed from their homes as the quake rattled dishes and windows," the Journal said. "Several late sleepers reported their beds were shaken by the tremor….
"The only other recorded quake in Springfield occurred twenty-five years ago, and was of slight intensity."
On Nov. 28, the Journal added a postscript to its earthquake coverage. LaVoo, a machinist in the newspaper's composing room, said his clock had been stashed in his basement, unused and unwound, for 17 years.
Mr. LaVoo explained that while in the basement of his home, 810 South Douglas Avenue, Thursday, he heard the tick of the clock which he purchased during the Cleveland administration in 1896 and stored in the basement shortly after the World war.

The clock, an 8-day timepiece of the horse and buggy days, is still ticking away with a new lease on life.

"No human hands touched that clock," LaVoo declared. "Then what started it if the quake didn't?"

What did?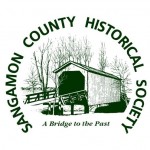 Joseph Lavoo (1870-1948) retired in the early 1940s after a 25-year career with the Journal. He is buried in Hammond, Ind.
Original content copyright Sangamon County Historical Society. You are free to republish this content as long as credit is given to the Society. Learn how to support the Society.