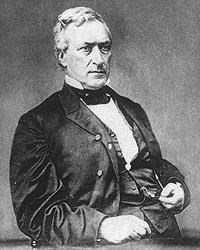 John Todd Stuart (1807-85) was Abraham Lincoln's first law partner, a cousin of Mary Lincoln, a three-term U.S. representative and an influential resident of Springfield for 57 years.
Stuart was born in Kentucky and moved to Springfield, already a lawyer, in 1828. (His memories of Springfield in 1828 were detailed in an 1877 speech that provides important details of the city's earliest history.)  Only four years later, he was elected to the Illinois General Assembly.
Stuart served as a major during the  1832 Black Hawk War – which is where he met Lincoln, who served as captain of the New Salem contingent – and was known as "Maj. Stuart" for the rest of his life.
After his second election to the Illinois House in 1834, he and the newly elected Lincoln roomed together in Vandalia, then the state capital, and Stuart encouraged Lincoln to study law. The two were law partners from 1837 to 1841, when Stuart completed the second of his three terms in Congress.
A Whig during his early political career, Stuart was elected to Congress once more, in 1862, as a Democrat. By then, he and Lincoln had grown apart politically, and Stuart opposed such Lincoln initiatives as the Emancipation Proclamation.
He continued to practice law, with the firm of Stuart, Edwards and Brown, until his death. At the time, he was thought to have been a lawyer longer than anyone else in the state.
"He was prominently connected with nearly every important movement for the progress and advancement of this city," the Illinois State Journal said in Stuart's obituary (registration required). "The early railroad enterprises had his assistance. He was President of the Springfield City Railroad Company, the Springfield Watch Company, and of the Board of Trustees of the Bettie Stuart Institute (Bettie Stuart Brown was John Stuart's oldest daughter – ed.). He was one of the Commissioners for building the State House, one of the original organizers of The Journal Company, and Chairman of the Executive Committee of the Lincoln Monument Association.
"In short, he was a promoter of every worthy enterprise, and the marks of his life-work will remain upon Springfield as long as the city exists."
Stuart is buried in Oak Ridge Cemetery.