Repairs to the Illinois State Fairgrounds Coliseum, under way in summer 2019, will include heating and air-conditioning systems. But the building was unheated in the winter of 1933, when the Coliseum played host to a boys high school basketball tournament.
It was March of 1933. President Franklin D. Roosevelt took the oath of office on March 4 and promptly signed an executive order declaring a bank holiday (reinforced by a law passed by Congress) that closed all banks until March 13. The idea was to help banks to withstand a run on their funds, thereby preventing complete chaos among depositors. One of the four banks in Springfield (Ridgely Farmers State Bank) would never reopen.
At the same time, the Illinois High School Association was getting ready to conduct its annual district basketball tournaments, the start of a process that would lead to the crowning of a state champion in late March. The head of the association, C. W. Whitten, sent word that the tourneys were to go on as usual, despite the money problems plaguing schools and other institutions. Admission to the tournaments averaged 25 cents per person.
Springfield High School basketball coach Mark Peterman and his staff were to host the 1933 district tournament; they hoped to have the games played in the Illinois State Arsenal ,as they had in the past. However, the Arsenal was already occupied by the Illinois National Guard, which Gov. Henry Horner had called out to deal with strikes and violence around area coal mines. (The Arsenal was destroyed by fire a year later and was replaced by the Illinois State Armory in 1937.)
The obvious alternative was for SHS to conduct the tourney in its own gym, a "cracker box" that held no more than a few hundred spectators. Instead, Peterman came up with the idea of using the Fairgrounds Coliseum.
State officials gave their approval, and Peterman prepared to have the SHS gym floor taken up and transported to the fairgrounds. Instead, however, the Knights of Columbus at Sixth and Edwards streets had a portable floor and bleachers and offered to loan them to SHS. The K of C also provided portable posts, backboards and rims. And so, a 100-by-55-foot floor with a playing surface 84 feet long by 50 feet wide (the same size as Huff Gymnasium at the University of Illinois) easily fit in the coliseum's dimensions.
With a set of portable bleachers and the coliseum's existing seating capacity, more than 2,000 seats were made available for basketball. In 1933, the only arena with more seats in downstate Illinois was Huff Gym.
In that era of one-class basketball, the state was divided into 63 districts, which then fed into eight sectional tournaments. The eight sectional winners qualified for the state finals. SHS was one of 15 area teams in its district, whose tournament was to be held March 9-11. Games were scheduled about one hour apart. So the tournament started with a triple-header that started at 2 p.m. Thursday, March 9, followed by four more games that evening, the first starting at 6 p.m.
SHS was by far the largest school in the district. The 15 teams with their enrollments were:
Auburn 206
Buffalo (four years before Tri-City) 45
Ball Township (near Glenarm) 115
Chatham (24 years before Glenwood) 44
Divernon 133
Edinburg 110
Farmersville 103
Mechanicsburg 30
Pawnee 143
Raymond 92
Riverton 106
Springfield Feitshans 642
Springfield High 2,589
Tallula 85
Virden 335
Four of the schools in the tournament – Buffalo, Chatham, Mechanicsburg and Riverton – were three-year high schools; they enrolled only freshmen, sophomores and juniors. A student graduated when he or she completed the junior year, although some enrolled at  nearby 4-year high schools to graduate as seniors.
Cathedral Boys High School in Springfield, which had 200 students in ninth and 10th grades only, was not eligible to play; Cathedral wasn't admitted to the IHSA until 1941. Converse, the school Lanphier High School replaced in 1937, had 103 students in ninth grade only in 1933.
Temperatures were in the 20s when the first games were held March 9. Results were: Chatham 23, Mechanicsburg 17; Divernon 28, Edinburg 12; Raymond 29, Buffalo 16; Farmersville 13, Ball 11; Pawnee 18, Virden 15; SHS 20, Feitshans 17; Riverton 31, Tallula 9.
Illinois State Journal sports columnist Bob Drysdale reported on the new basketball arena after the first day's games:
Conditions aren't half as bad at the coliseum as a lot of folks expected. At that, one wisecracker remarked, "they're not so hot, but since he immediately picked out a spot next to a stoves, we presume that his principal kick was at the weather man. … We spotted one high school girl shivering beside a stove – and eating a frozen lollypop. … Daddy Wentz drew a laugh when he walked into the arena carrying a pair of galoshes. But he had the laugh on the rest of the mob when he put them on and sat comfortably through his afternoon's duties.
Still, it was cold enough Thursday night, that, with the same weather forecast for Friday, the tourney was moved back to SHS's gym for the second round. Results Friday were: SHS 24, Auburn (first round bye) 12; Divernon 24, Farmersville 22; Pawnee 24, Raymond 10; Riverton 31, Chatham 16.
Temperatures in the upper 40s for Saturday, March 11, brought the tournament back to the Coliseum for the afternoon semi-finals and the evening finals.
Semi-final results saw SHS beat Divernon, 30-23, and Pawnee defeat Riverton, 14-11. Riverton then defeated Divernon 26-24 for third place.
SHS won the championship with a 20-9 victory over Pawnee.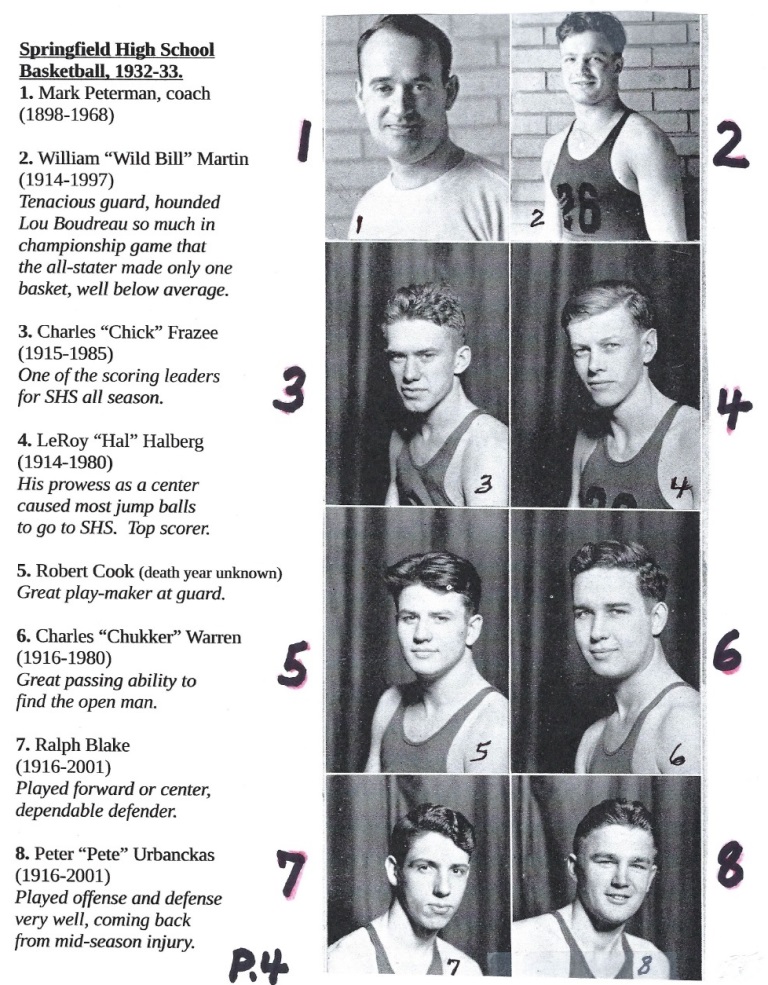 Peterman's team, then known as "SHS" or "the Red & Black" (they didn't become the Senators until 1936) was led in scoring by LeRoy Halberg, a transfer from Wyanet, and Charles "Chick" Frazee. Pawnee coach John Conant's boys put on a spirited defense, but couldn't match the taller SHS group. A crowd estimated at more than 2,000 watched the final game.
SHS had hoped to again host the 8-team sectional in the Coliseum. But a forecast of continuing cold forced the games to be played in Decatur's armory, a building with a much smaller seating capacity. The National Guard was still stationed in the State Arsenal.
Springfield zipped through the first round and semi-final games over Hull 33-16, and Mt. Pulaski 25-14. The final on the night of March 18 saw them get by Quincy 17-15.
It was on to Champaign-Urbana and the state finals. For the benefit of the fans, the Illinois State Journal published four different ways to get to C-U's Huff Gym. Driving, you could take U.S. 36 to Decatur, then Illinois 48 through Monticello to C-U. Another way was U.S. 36 through Decatur to Tuscola and then U.S. 45 up to C-U. The fastest driving way was a fairly new routing of U.S. 66 to Lincoln, then Illinois 10 through Clinton to C-U. Only "one or two short detours" were on that route. The fourth way was to take an Illinois Terminal System passenger train at $1.75 round-trip. Many fans chose this method, including chartering a special train each way for the championship game.
The eight teams in the state finals and their enrollments were:
Benton 370
Canton 816
Chicago Lakeview 4,305
Gillespie 565
Harvey Thornton 1,825
Hutsonville 154
Mahomet 109
Springfield 2,589
Springfield defeated Hutsonville, 30-15 and Gillespie, 17-14, to advance to the state championship game against Harvey Thornton's Flying Clouds.
On both Thursday and Friday nights of the tournament, Peterman took his team on an ITS train to stay in a hotel in Danville, where they had an evening meal, went to a movie and were in bed by 11 p.m.
Thornton, led by sophomore Lou Boudreau, a future Hall of Fame baseball player, played in three state championship games in a row beginning in 1933 (they lost to Quincy in 1934 and, in a rematch, to an SHS team led by Herb Scheffler in 1935).
More than 5,000 people witnessed the championship game, which Thornton won, 14-13. Halberg, rated as the "greatest high school center he has ever seen" by University of Illinois coach Craig Ruby, had a shot attempt roll off the rim as time expired.
Much of the crowd was unhappy with SHS's slow, deliberate offense. But that was how Peterman's teams played, with much passing and looking for the open shot. SHS was done in by free throws: eight of Thornton's 14 points came from the free-throw line, while Springfield High missed four of its seven free-throw opportunities. Boudreau, however, was stymied by SHS's Billy Martin and eventually fouled out.
SHS's slow play was helped by the fact that, at the time, teams returned to the center circle for a jump ball after each two-point basket was made. That rule was eliminated in 1938. On the other hand, the 1933 season was the first year for the 10-second center line. Before 1933, teams could stay in the backcourt all they wanted.
Despite the loss (a final record of 22-9), SHS fans stormed the court after the championship game. Drysdale wrote:
They gave everything they had, played the game as it should be played, and although disappointed, can feel proud of their great fight. Somebody had to lose.
Halberg and Frazee were named to the All-Tournament team, along with Boudreau and Dar Hutchins from Thornton and Wilbur Henry of the Benton Rangers.
Mark Peterman, who also guided the Canton Little Giants to a state title in 1928, is in the Illinois Basketball Coaches Association and the Springfield Sports halls of fame. His SHS teams went 298-190 in 18 years.
Halberg went on to coach Feitshans High School basketball from 1946 to 1957, finishing with a 140-136 mark. In the only game Halberg coached against Peterman, SHS beat Feitshans, 43-26, in 1947.
Contributor: Phil Shadid, illinoishsglorydays.com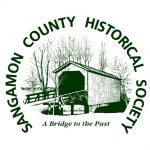 Sources: Illinois State Journal, Abraham Lincoln Presidential Library, Illinois State Library, Springfield's Lincoln Library, Illinois High School Association.
More information: The IHSA has posted two YouTube videos from films taken at the 1933 state championship tournament. Links and more information on SHS's route to the championship game are here.
Original content copyright Sangamon County Historical Society. You are free to republish this content as long as credit is given to the Society.