The Sugar Creek Covered Bridge, the last covered bridge in Sangamon County, spans Sugar Creek a few hundred yards south of where early settler Robert Pulliam built a cabin during his first visit to the area in 1817.
The 60-foot bridge was built around 1880, although there apparently were earlier versions. It also has undergone several reconstructions since.
Folklore is that early settler Thomas Black, who operated a mill and tavern nearby, built the first bridge at the site in 1827. According to a 1994 State Journal-Register article by reporter Elizabeth Bettendorf, however, there's no documentation for that claim.
"I have never come across whatever made people think that," Linda Garvert of Lincoln Library's Sangamon Valley Collection told Bettendorf. "It's just very dubious that it was built that early."
There clearly was a bridge at the site sometime before 1845, when a newspaper advertisement shows Sangamon County paid contractors $48 for bridge repairs. In 1854 and 1860, the county again sought bids "for enclosing and repairing" the bridge.
According to Bettendorf's article, a 1972 survey by the National Society for the Preservation of Covered Bridges dated today's Sugar Creek Covered Bridge to 1880. The survey also called it "Headley Bridge," apparently a reference to a James Headly, who owned property adjacent to the bridge in the 1880s.
The bridge closed to vehicular traffic in 1984, although pedestrians can still walk across it.
The Sugar Creek Covered Bridge is in Pioneer Park, a small park owned by the Chatham Park District. It is listed on the National Register of Historic Places.
Most of Sangamon County's covered bridges disappeared when Lake Springfield was created in the 1930s. The only other remaining covered bridge in the county, over Spring Creek west of Springfield, was destroyed in an arson fire on Christmas Eve 1977.
This entry was revised and expanded in 2020. (Note that the Sugar Creek bridge is  depicted in the logo of the Sangamon County Historical Society, below.)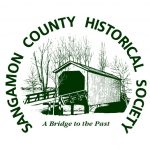 Original content copyright Sangamon County Historical Society. You are free to republish this content as long as credit is given to the Society. Learn how to support the Society.