Note: This entry has been edited. See below.
Long before it was mistakenly confused with marijuana, hemp was, briefly, a big business in Sangamon County.
In a lengthy pitch published in the March 23, 1848, Illinois Weekly State Journal, entrepreneur J. Vincent Browne promised farmers he would pay well for their hemp crops. The value was in hemp's suitability, after processing, to be made into rope and twine, especially for sailing ships. At the time, however, the U.S. was dependent on foreign sources, especially Russia, for much of its hemp.
Browne offered $2 per hundredweight for four-foot-long stalks of hemp, $2.50 for six-foot lengths and $3 for stalks eight feet and longer. Missouri and Kentucky had "grown rich" on hemp, Browne wrote.
I have seen Hemp Stalks, the growth of this State, superior to that of any other; and I am convinced that could one good season be had in Illinois, HEMP would become one of her STAPLES. … Now, all I ask of the Farmers of Illinois is to aid me to carry out my projects. In doing so, they cannot but aid themselves.
Browne and his partner, Francis Cox, created the American Hemp Co. and set up four factories at which  hemp could be processed to be made into rope. But they quickly ran into financial trouble – creditors filed suit only a year later seeking to seize the properties. Browne and Cox apparently were unable to pay nearly $3,000 they had borrowed for the project.
The hemp factories continued to operate for a few more years – successfully enough that, in 1850, a new owner, Edward Cox (relationship to Francis Cox unknown), advertised that he needed to hire 500 men "to cradle, bind, haul and stack 1,000 acres of Hemp at Prairie Creek, and at Petersburg, Menard County, Ills., on the first of August, and onward."
By 1854, however, Edward Cox put the factories up for sale. A Journal ad described the properties.
The four Hemp Factory Establishments.

respectively, situated on Prairie Creek, 7 miles west, with 60 acres land; on Sugar Creek, 4 miles southeast, with 20 acres land; on Sangamon River, 5 miles northeast of Springfield, with 40 acres land; also, near Petersburg, Menard county, with 20 acres of land

Each of the above contains a large and commodious factory and dwelling house (which can be moved if necessary), a first class steam engine … and double flue boiler …, are situated on the lines of railroads and are well adapted for milling or any manufacturing purposes.

Also, in connection with the above, the most perfect and complete machinery yet invented for preparing and cleansing water-rotted hemp, offering an excellent opportunity to engage in the cultivation and preparaton of Hemp.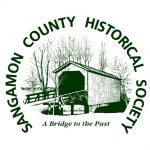 It's not clear what happened to the factory sites, although an 1870 Journal advertisement offered to sell 100 acres of land on the Beardstown road – described as the "Hemp Factory farm," probably the old Prairie Creek factory – for $6,000.
Hemp was designated a controlled substance by the federal government from 1937 to 2018. The regulation destroyed the domestic hemp industry. (See Wikipedia link below.)
Hat tip: To Bob Berry for drawing our attention to Sangamon County's hemp history.
Another hat tip: To commenter Sean Brown (below) for correcting SangamonLink about hemp's relationship to marijuana. Although both are strains of Cannabis sativa, industrial hemp has too little THC and too much CBD to be psychoactive. (In our defense, the federal government for decades also confused the two plants.) Wikipedia has more information.
SangamonLink apologizes for the error.
Original content copyright Sangamon County Historical Society. You are free to republish this content as long as credit is given to the Society.