A torrential rainstorm beat down on Springfield the evening of Sept. 16, 1886. But the weather didn't stop local opera aficionados from packing the Chatterton Opera House at Sixth and Jefferson streets to hear tenor virtuoso Carlo Modini.
"Nearly every seat in the parquet was filled with the wealth and fashion of the city," the Illinois State Journal reported. "The young singer's voice seemed to improve with each appearance … when he sang [Tosti's Donna] Vorrei Morir, his friends were given an opportunity to note its tender sweetness."
The night was extra-special for Signor Modini because his Springfield concert happened to be his debut U.S. performance since returning from Italy. George Chatterton himself said it was "the 'finest concert' ever given in his house."
In a post-show interview, Modini admitted he had "never faced an audience with such tremor, not even on his first … in Italy."
Modini's performance that humid evening was really a homecoming, because the audience was filled with his friends, many of whom he had known from childhood.
The truth is, this celebrated Italian tenor wasn't Italian at all. His birth name was Charles Wood; he was the son of Adolphus and Catherine Carpenter Wood, and he had been born in central Illinois. Both sides of the family were Sangamon County pioneers, and Charles Wood grew up in Springfield.
According to Wood's obituary on findagrave.com, "He inherited his taste for music from his father, who was a singer but made no pretentions to musical culture."
In his 20s, Charles Wood sang regularly at church and school functions and entertained at parties. He appeared on the program with other singers for the dedication concert of the Chatterton Opera House in 1879.
Wood graduated from the University of Michigan in 1875. Having a love of opera, he moved to Europe in 1880 to train professionally with Francesco Lamperti in Italy. He acquired the stage name Carlo Modini there and made his professional singing debut in Milan in 1882.
The name stuck, owing partly to the fact that U.S. newspaper stories about him often refer to Wood as Modini.
Charles Modini Wood seems to have been a gregarious and charming fellow. According to a published description, he was five feet, 10 inches tall, with a light complexion, blue eyes and light-colored hair, in addition to having a "scar over [his] left eye."
The 1876 History of the Early Settlers of Sangamon County, Illinois by John Carroll Power lists Wood as working as a clerk at R.W. Diller's drugstore in Springfield. This may explain his involvement with a drugstore owned by William C. Wood, his brother, during the late 1870s and early 1880s. Their store, W.C. Wood & Bro. druggists, appears in Springfield city directories of the era.
The 1880 edition adds that, although Charles was associated with the store, he then was living in Europe. (William Wood also served as a Fourth Ward alderman in the 1870s. He sold the drug store in the summer of 1881, whereupon he ran successfully for the office of city clerk.)
In 1884, the Springfield newspapers reported Wood/Modini "was in Hong Kong singing for the Celestials." Around the same time, he also toured Australia with Dame Nellie Melba, a renowned soprano. Wood's singing career reportedly also took him to Java, Ceylon, Egypt, and India as well as Europe.
Upon returning to the U.S., Wood lived in Sangamon County and continued to perform. In 1888, he worked with conductor Louis Lehmann to organize a 100-voice local chorus to accompany him and three other soloists in a performance of Haydn's "The Creation" (Die Schopfung) at the Chatterton.
Wood left Springfield left permanently around 1889, moving to Los Angeles to pursue his vocal career. By May 1890, he sent notice to his family indicating he'd taken a bride. The woman he married was Mary "Mamie" Perry Davis (1862-1949), an accomplished opera singer in her own right. She was the daughter of Los Angeles tycoon William Hayes Perry, a lumber merchant, financier, theater owner and director-president of the Los Angeles City Water Company.
An 1892 roster of California's registered voters indicates that Wood was a musician listed under the name "Charles Modini Wood". According to research on Hollywood's silent film industry, Wood acted as a bit player for pioneer silent film producer Thomas Ince, and he also managed his father-in-law's Los Angeles Opera House (later the Lyceum Theater) in the bustling theater row section of downtown.
One of Charles and Mamie Wood's daughters was Mary Elizabeth, born in 1891. She went on to marry James Langford Stack, and one of their two sons was actor (The Untouchables) and television host Robert Stack (1919-2003). Although Stack used "Robert" as his stage name, his parents actually named him after his grandfather; his birth name was Charles Langford Modini Stack.
Charles Wood died in Los Angeles on February 28, 1928. According to his wife's findagrave site, "Mamie Perry Wood and Carlo Modini-Wood are together for eternity with their remains resting in a bronze art deco style urn in the Great Mausoleum at Forest Lawn cemetery."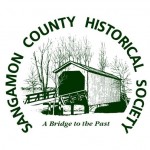 Note: The Perry family's mansion, built in 1876, is one of eight historic structures at the Heritage Square Museum in Los Angeles. (The story of the first meeting between Charles Modini Wood and Mamie Perry Davis formerly was told on the website, in a link that's no longer available. "Don't let this one get away," her father reportedly told Mamie.)
Contributor: William Cellini Jr.
Original content copyright Sangamon County Historical Society. You are free to republish this content as long as credit is given to the Society. Learn how to support the Society.