Temple B'rith Sholom, Springfield's Reform synagogue, began with 19 members in 1858. Originally called the Springfield Jewish Congregation, the group first met in a third-floor room at 216 S. Sixth St. It later moved to Hart's Hall at 221 S. Fifth St.
The congregation's first president was Julius Hammerslough, a clothier and acquaintance of Abraham Lincoln.
The original congregation was described as "semi-Orthodox" in orientation, but changed to a Reform congregation in 1876, the same year members built the temple's first building of its own — a brick structure at 426 N. Fifth St.
In 1916, the name was changed to Temple B'rith Sholom, which means "Covenant of Peace." The congregation moved to its current site at Fourth and Scarritt streets on Sept. 9, 1917. A memorial building was added in 1958.
More information: Temple B'rith Sholom file, Sangamon Valley Collection, Lincoln Library. See also "Faith and Practice: History of the Jewish Community in Springfield," by Temple Israel Rabbi Barry Marks in the July 30 edition of Illinois Times.
Note: This entry has been edited to correct the last name of Julius Hammerslough and to reflect questions about the extent of Hammerslough's participation in local funeral rites for President Abraham Lincoln.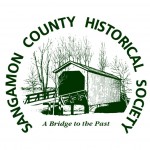 Original content copyright Sangamon County Historical Society. You are free to republish this content as long as credit is given to the Society.