In his 20s, Joseph Harrison Dickson (1775-1844) was one of the first "mountain men" whose fur-hunting journeys led the way for exploration of the American West. He met Daniel Boone, introduced John Colter (first European to explore the Yellowstone National Park area) to trapping, and associated with Merriwether Lewis and William Clark during their famous trek to map the territory included in the Louisiana Purchase.
Dickson's great-great grandson, Frank H. Dickson, described Dickson's three-year-long expedition to the West in an article, "Hard on the Heels of the Lewis and Clark Expedition," published in the winter 1976 edition of Montana the Magazine:
There are no monuments to Joseph Dickson, no mountain peaks or rivers or landmarks named for him. Yet he was in the vanguard of the westward movement, hard on the heels of Lewis and Clark, and more than any other man was responsible for initiating the fur trade on the Yellowstone. He is mentioned by name in the Lewis and Clark journals and in other historical accounts, yet this acknowledged leader of what has become known as the Fourth Expedition to the Yellowstone remains obscure in Montana history.
Not just Montana history, as it happens. Dickson (sometimes misspelled "Dixon") also has gotten short shrift in histories of Sangamon County, where he spent the last two decades of his life.
Dickson and his family were part of the first group of European settlers in the Pawnee/Cotton Hill township area of Sangamon County in 1818. Here, partly as a result of a religious conversion he experienced in the Yellowstone country, Dickson became one of Rev. Peter Cartwright's most devoted followers. Dickson donated land for a Methodist church, Zion Chapel, near what today is the village of Pawnee, and, as the father of nine, helped organize at least one school. He also served as Sangamon County's first coroner.
Dickson, born in Pennsylvania, moved later to Tennessee and then St. Clair County, Missouri. He became an expert hunter and fur trapper. In August 1804, he and another trapper, Forrest Hancock, embarked on a trapping expedition up the Missouri River in the tracks of Lewis and Clark, who had set off on their own "voyage of discovery" that May.
Over the next three years, Dickson trekked well beyond what was then America's western frontier, traveling thousands of miles, mainly by canoe, wintering in caves and surviving several violent encounters with Native Americans. Struck by snowblindness his second winter in the wilderness, Dickson vowed to become a devout Christian if his life was spared. That led to Dickson's later dedication to Cartwright's Methodism.
Dickson and Hancock spent the winter of 1804-05 huddled in a cave they dug in a river bluff, probably near today's Sioux City, Iowa. Dickson later described that experience to Cartwright, who retold the story in his autobiography.
After ascending this stream for hundreds of miles and escaping many dangerous ambuscades of the Indians, winter came on with great severity. They dug in the ground and buried their furs and skins at different points to keep them from being stolen by the Indians. They then dug a deep hole on the sunny side of a hill, gathered their winter meat and fuel, their leaves and grass, and carried them into the hole, and took up their winter quarters. The snows were very deep, the weather intensely cold; but they wintered in comparative safety till returning spring, which they hailed with transports of joy.
The trappers' joy suffered a setback when they learned their cached furs had been taken, apparently by Native Americans. Setting out to replenish their stock, Dickson and Hancock joined with a Canadian trapper, Charles Courtin, and headed upstream to the Teton Sioux country. They overwintered in 1805-06 with Courtin. That spring, however, Native Americans attacked the group several times. Dickson suffered a leg wound, and the three lost their furs again.
Separated from Courtin, Dickson and Hancock headed upstream on the Missouri and in August 1806 met part of the Lewis and Clark expedition, traveling under Clark's command. They exchanged information for a couple of hours, Clark gave the trappers some gunpowder and lead, and the two groups went their separate ways, Clark downstream and Dickson and Hancock upriver.
The next day, however, Dickson and Hancock encountered Lewis' half of the mapping expedition. Lewis, who had had no idea where Clark was, was relieved to learn the other explorers were so close. For  unknown reasons, Dickson and Hancock reversed course and joined Lewis' group heading downriver.
After two years in the wilderness, the two trappers not only had no furs, they were very low on supplies. However, they apparently were eager to embark on a third trapping season, and their description of the possible rewards persuaded Colter, one of Lewis and Clark's hunters, to seek release from his duties to the mapping team to join them. Dickson saw advantages to the idea – three men would be safer than two, for one thing. What's more, Frank Dickson wrote in Montana the Magazine:
Colter, who saw an excellent business opportunity in the trappers' plans, offered to obtain from the Expedition's stores all the supplies they would need for another year in search for beaver if they agreed to go "shearers with him."

At first Dickson resisted employing Colter, who was not a trained trapper. But the offer of equipment and supplies, without which his hope to "make a fortune" might fail, was too tempting to resist.
The three went upstream again, but soon left the Missouri River to follow the Yellowstone. Dickson family tradition, Frank Dickson wrote, "holds that the three ascended the Yellowstone at least beyond the Powder River."
At some point, Colter and Hancock split with Dickson, leaving him to survive the winter alone in a remote wilderness. Dickson once again moved into a cave, Frank Dickson wrote.
What Dickson apparently did not understand about a cold northern country was that the snow becomes icy and glaring in the sunlight when temperatures drop below zero. Continued exposure to the sun's rays inflamed his eyes and he was in extreme pain. Ultimately he lost his sight completely. Alone in unfamiliar country, Dickson became convinced that he was going to die. Although he had not been a religious man before, he now prayed for deliverance, promising that if his life were spared he would be a faithful Christian for the rest of his life. He later told Reverend Cartright (sic) that he immediately felt a strong inspiration to take the bark from a tree near his cave, mix it water to make a poultice, and apply it to his eyes. Having done this, he lay down to sleep and when he awoke his eyes felt better. In a short time his sight improved and was soon entirely restored.
Dickson's third year of trapping was successful. He amassed 1,000 pounds of beaver pelts, according to his great-grandson. Dickson loaded his furs into two canoes, paddling one and towing the other, and headed down the Yellowstone to the Missouri. In June 1807, he was near the Arikara villages on the Missouri when a group of Native Americans enticed him closer to shore, Frank Dickson wrote.
Cautiously he directed his canoe toward them. Near the water's edge, a burly Indian waded into the water and seized the bow of Dickson's canoe. At the same time another Indian raised his gun to fire. As Dickson pulled the Indian in front of him as a shield, the gun fired and killed his unwilling protector instantly. In the ensuing confusion, Dickson rapidly paddled out of danger.
"When he returned to St. Louis, he sold his furs for several thousand dollars, and returned to his family, after having been absent nearly three years," Cartwright wrote in his Autobiography of Peter Cartwright (1857). "He then (in 1818-ed.) packed up, moved to Horse Creek, in Sangamon County, took preaching into his cabin, joined the Methodist Episcopal Church, and continued to be a faithful member, leader and steward for many years."
A squatter at first, Dickson bought 240 acres of land between 1824 and 1830. He farmed during the summer and continued to hunt and run trap lines during the winter.
Meanwhile, Dickson also took on duties for Cartwright, mainly raising money to support the preacher and his family. "Brother Joseph Dixon (sic) was one of the best stewards I ever saw," Cartwright wrote.
(T)his country was generally settled with poor, but very kind people; money was very scarce, and what little there was, was generally kept close. … In this condition of affairs, the support of a traveling preacher was exceedingly small. The first year I traveled the Sangamon Circuit with a wife and six children, I received forty dollars all told; the second year I received sixty. This was considered a great improvement in our financial affairs. …

The round before each quarterly meeting, Brother Dixon, the steward, would take his horse and accompany the preacher, and after preaching, and the class had met, he would rise and call on the Church for their aid in supporting the Gospel. He invariably made it a rule to see that every member of his own class paid something every quarter to support the Gospel, and if there were any too poor to pay, he would pay for them.
Dickson was influential in other spheres too. He served as Sangamon County's first coroner in 1821 and as a justice of the peace and several times as an election judge. Originally a Jacksonian Democrat, he later joined the Whig Party. According to a MyHeritage.com biography, Dickson in 1840 "was one of eighty delegates who sat on the roof of a log cabin float pulled through the streeets of Springfield as part of a William Henry Harrison 'Tippecanoe and Tyler Too' political campaign."
Dickson was "the principal mover" in the creation of Zion Chapel in Cotton Hill Township and later contributed five acres of land in 1821 for the site of the chapel and cemetery, according to John Carroll Power's History of the Early Settlers of Sangamon County, Illinois (1876). The church was torn down in 1964, but Zion Cemetery still exists, and the sign at its entrance credits "Joseph Dixon" as its founder.
Dickson's wife Susan is buried in Zion Cemetery. Some sources, including Findagrave.com, suggest Joseph Dickson's grave also is in Zion Cemetery. Dickson, however, was living with a daughter near Franklin in Morgan County when he died, and he probably is buried there.
The Dicksons named their fifth child, a son, "Missouri" as a remembrance of Joseph Dickson's trek to the West.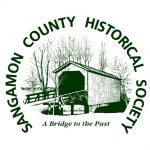 Source note: In addition to the sources linked above, several journals of the Lewis and Clark Expedition mention its encounters with Dickson and Hancock, along with Colter's defection to join the two trappers. The journals can be read here.
Hat tip: To Brent Wielt, historic sites manager for the Macon County Conservation District, for bringing Joseph Dickson to our attention. Our thanks to him.
Original content copyright Sangamon County Historical Society. You are free to republish this content as long as credit is given to the Society.