Temple Israel, 1140 W. Governor St., traces its history to Eastern European Jewish immigrants' arrival in Springfield in the 1880s. They established an Orthodox synagogue, B'Nai Abraham, at  Seventh and Mason streets.
The temple's longtime rabbi, Rabbi Barry Marks, wrote in the July 30, 2015 edition of Illinois Times that the congregation's name was changed in the late 1950s. B'Nai Abraham's building had been severely damaged by a storm several years earlier, Marks said, and a group of members then donated property on Governor Street as the site of a new synagogue:
The congregation was re-chartered as Temple Israel and identified itself as a conservative congregation (still traditional in its practices but somewhat less rigorous than Orthodoxy in its application of the rules). This was a difficult period in the congregation's history with religious education and worship services taking place at various rented locations around town (DuBois School and Springfield Theatre Centre – now Legacy Theatre – on Lawrence Avenue among others). The new building was completed in 1961, and the congregation began to enjoy a more stable existence.
Marks was named Springfield's First Citizen in 2011.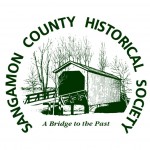 Original content copyright Sangamon County Historical Society. You are free to republish this content as long as credit is given to the Society. Learn how to support the Society.