The Torrence Mill, one of the last watermills to operate in Sangamon County, was on the South Fork of the Sangamon River in Cotton Hill Township, north of modern-day New City Road.
The Torrence Mill dates to the late 1830s. Joseph Williams and Co. petitioned the Sangamon County Commissioner's Court to build a mill dam across the South Fork of the Sangamon River (on the west half of the southwest quarter of section 12 in Township 14 North Range 4 West) on June 5, 1837. The west half of the southwest quarter of section 12 was purchased by Christopher Haines and Joseph Moore on Jan. 21, 1830. Haines and Moore sold the land to Lewis Keeling on March 16, 1833 for $120.
A biographical sketch of a later owner (Greenberry Torrence) stated that the mill was built by two brothers named Hollenbeck, who began construction in the fall of 1831, and completed it in 1832.
Lewis Keeling sold the mill and other property to Joseph Williams, Elias Williams, and Preston Breckinridge for $4,000 on Jan. 24, 1837. Preston Breckinridge became the sole owner of the mill in 1851. He sold the operation to his son, Hugh, on January 27, 1866 for $3,000.
Newspaper reminiscences indicate that Hugh Breckenridge rebuilt the mill in 1872. Greenberry Torrence purchased the mill from Breckenridge on Jan. 24, 1873 for $4,000. Torrence made wheat, buckwheat and graham flour and corn meal. He operated the mill until 1915.
Contributor: Curtis Mann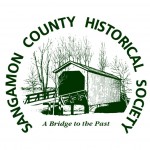 Original content copyright Sangamon County Historical Society. You are free to republish this content as long as credit is given to the Society.