Of the 35 eminent Illinois writers whose last names are engraved on the frieze that decorates the  Illinois State Library, only three had significant connections to Sangamon County. Two are predictable – Abraham Lincoln and Vachel Lindsay.
The third is Paul M. Angle (1900-75), who lived in Springfield beginning in 1925, when he was named executive secretary of the Abraham Lincoln Centennial Association (now the Abraham Lincoln Association). He later was historian of the Illinois State Historical Library (today's Abraham Lincoln Presidential Library) and secretary of the Illinois State Historical Society. Angle left Springfield in 1945 to direct the Chicago Historical Society.
Angle's most popular book was The Lincoln Reader, a collection of articles by 65 historians that combined to present a cohesive one-volume biography of Lincoln. It was a Reader's Digest Book of the Month in 1947.
Angle also related the early history of Springfield and Sangamon County in Here I Have Lived: A History of Lincoln's Springfield, 1821-1865. First published in 1935, Here I Have Lived remains an important resource for local historians.
In one passage, Angle describes Lincoln's reception when he first moved to Springfield.
(T)he first weeks in his new home were depressing ones. The "flourishing about in carriages" which he noticed deepened his dejection at his own poverty and made him painfully sensitive of his social shortcomings. Three weeks after his arrival he moodily summed up his feelings: "This thing of living in Spirngfield is rather a dull business, after all; at least it is to me. I am quite as lonesome here as I ever was anywhere in my life. I have been spoken to by but one woman since I have been here, and should not have been by her if she could have avoided it. I've never been to church yet, and probably shall not be soon. I stay away because I am conscious I should not know how to behave myself."

But the mood soon passed. …
Angle died in Chicago. His body was donated to science.
Note: See Richard Hart's comment below for much, much more on Paul Angle's contribution to the study of Abraham Lincoln. 
Gwendolyn Brooks Building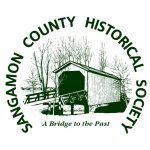 The Illinois State Library building, on the southeast corner of Second and Monroe streets,  was dedicated on June 20, 1990 and renamed in honor of Chicago poet Gwendolyn Brooks in 2003. The library, created by Stephen A. Douglas in 1839, was housed in the Old State Capitol, the present Statehouse and the Howlett Building (formerly the Centennial Building) before the Brooks Building was constructed.
For more information, see the library's history page.
Original content copyright Sangamon County Historical Society. You are free to republish this content as long as credit is given to the Society.