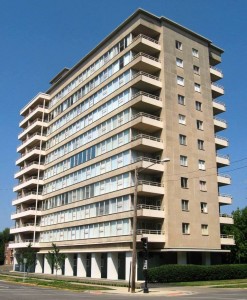 The Town House, a condominium building at 718-20 S. Seventh St., was named to the National Register of Historic Places in 2005 partly for its architectural distinction and partly because of its historic import as one of the few urban-style luxury apartment structures in Springfield.
The 87-unit Town House was constructed at a cost of $2.5 million from 1956 to 1958 by the nearby Franklin Life Insurance Company.  It was designed by the firm of Shaw Metz and Dolio of Chicago.
"The 13-story Town House was conceived as a company investment to provide rental housing for company officers and employees," according to the National Register application. "However, before the building opened, its function changed to that of providing rental apartments to the public." (The building changed to a condo development after its sale to other owners in 1978.)
"It is one-of-a-kind in terms of size, expenditure and luxurious appointments," the application added.
The common areas feature lavish use of marble and such amenities as a wet bar and catering kitchen in the Colonnade Room, a community party room. There is a private terraced garden, and the original foyers have Marbelite vinyl floors and Bakelite house phones. Living units boast 9-foot ceilings, and party walls between apartments are five inches thick for soundproofing.
The first residents included Franklin Life president Charles E. Becker and his wife Winifred, who lived in one of the two penthouses, an innovation for Springfield that may have been instigated by Winifred Becker. The Town House was "teasingly referred to by those who remember its early days as 'Mrs. Becker's rooming house'" because of her interest in its construction and design, the National Register application says.
"The building remains a remarkably faithful mid-century Modernist residence, unique to Springfield, to the state of Illinois and to the work of Alfred Shaw and Shaw, Metz and Dolio," the application concluded.
More information: Application for inclusion on the National Register of Historic Places, available in the Sangamon Valley Collection, Lincoln Library, Springfield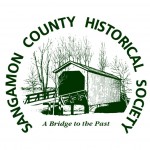 Original content copyright Sangamon County Historical Society. You are free to republish this content as long as credit is given to the Society.