When Sangamon County was organized in 1821, it was governed under the only form of county government the state constitution then permitted. The control of county functions was in the hands of a three-person elected commission, a form of county government that had been imported with the young state's many Southern immigrants.
As newcomers from New England and the mid-Atlantic states arrived in numbers, agitation grew for the right to establish township governments of the sort that were common in that part of the country. The township system provided for more local control of government in unincorporated areas, which then included most of Illinois. Four elected town trustees vote on matters pertaining to regulations, township services, and the disbursement of funds; three to five elected officials—a township clerk, assessor, highway commissioner, collector, and supervisor – have executive responsibilities.
The 1848 Illinois constitution gave voters the option to change to the township form by majority vote . A petition to make such a change was circulated in Sangamon and submitted to the county commissions.
Accordingly, on June 5, 1860, the latter ordered an election to be held on November 6 of that year on whether to adopt township government. The measure passed, with 4,050 votes for and 3,191 against. Sangamon became one of Illinois's 85 counties with townships.
A county board-appointed committee drew up township boundaries, which were approved on March 1, 1861. These divided the county into twenty-two townships:
Auburn Township
Ball Township
Buffalo Hart Township
Campbell Township (changed to Chatham Township on Sept. 2, 1863)
Cartwright Township
Clear Lake Township
Cooper Township
Cotton Hill Township
Curran Township
Gardner Township
Illiopolis Township
Island Grove Township
Loami Township
Mechanicsburg Township
Pawnee Township
Power Township (changed to Fancy Creek Township on Sept. 11, 1861)
Rochester Township
Sackett Township (changed to Salisbury Township on Sept. 9, 1867; abolished in 1989)
Springfield Township
Talkington Township
Williams Township
Woodside Township
Five more townships were added later:
New Berlin Township (formed from the south part of Island Grove on March 3, 1869)
Wheatfield Township (now Lanesville Township, formed from the west part of Illiopolis before 1921)
Capital Township (formed from parts of Springfield and Woodside; made co-extensive with the city of Springfield in 1892)
Divernon Township (formed from parts of Auburn and Pawnee before 1921)
Maxwell Township (formed from the west part of Loami before 1921)
When Salisbury (originally Sackett) Township was abolished in 1989,  its territory was absorbed by Gardner and Fancy Creek townships.
Contributor: James Krohe Jr.
More information: Historical Encyclopedia of Illinois and History of Sangamon County, edited By Newton Bateman and Paul Selby, 1912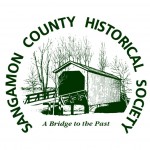 Original content copyright Sangamon County Historical Society. You are free to republish this content as long as credit is given to the Society.