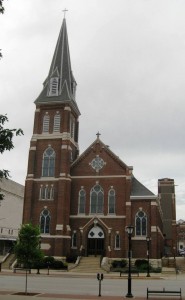 Trinity Evangelical Lutheran Church was created when Springfield's Evangelical Lutheran congregation, organized in 1841 in the home of the Rev. Francis Springer, split into German and English wings in 1854.
In 1854, the trustees of the Evangelical Lutheran Church were authorized to buy a lot on Third Street south of Washington Street from Elijah Iles in order to erect a new church building. In December of that year, the German-speaking members of the congregation offered to buy the property, while the English-speaking members of the congregation reorganized as the English Evangelical Lutheran Church of Springfield (now Grace Evangelical Lutheran Church).
Trinity built a new, three-spired church on the Third Street site in 1860. However, maintenance problems – and the fact that the church opened onto the Third Street railroad tracks – led to the decision in the 1880s to find a new location. The present Trinity Lutheran church at Second and Monroe streets, diagonally across from the state Capitol, was dedicated in 1889. The last regular service in the German language was given in 1953.
Trinity Lutheran Church operates an elementary school at MacArthur Boulevard and Governor Street. Trinity members also initiated creation of Camp Cilca, a Lutheran church camp 12 miles north of Springfield.
Trinity also was closely associated with Springfield's former Concordia Seminary, which operated northeast of downtown from 1876 until 1975.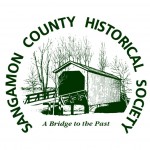 Original content copyright Sangamon County Historical Society. You are free to republish this content as long as credit is given to the Society. Learn how to support the Society.