On Nov. 11, 1918, the parades started at 4 a.m.
News that negotiators had agreed on an armistice to end World War I reached Springfield shortly after 2:30 a.m. that Monday. Middle of the night or not, celebrations – spontaneous, raucous and continuous – erupted almost immediately.
"The first downtown celebration was started about 4 o'clock in the morning by a crowd of newsboys and telephone girls and other night workers, who naturally got the news first," Illinois State Journal writer Nellie Browne Duff reported. "They immediately formed a parade of their own."
Like the rest of the U.S., residents of central Illinois had known for a month that an armistice was imminent. Unlike many other areas, however, Springfield hadn't celebrated early.
That was partly because, for much of the month before, Sangamon County had been paralyzed by the worldwide influenza epidemic. On Oct. 16, 1918, Springfield health officials closed churches, schools and theaters, and banned street gatherings. A special flu hospital had to be established at the Illinois State Fairgrounds. Influenza would kill more than 500 county residents by the end of the year.
The worst of the epidemic was over by Nov. 11. Schools were scheduled to reopen that day. But after a month of flu worry, not to mention two years of sacrifices to the war effort, area residents were ready to cut loose.
"When the dam broke," Walter Lewis Patteson wrote in the Illinois State Register, "everything went over.
"Springfield has 60,000 inhabitants," he said. "Half of them marched in the various parades, and the other half egged them on."
Duff said a train coming into the city about 3 a.m. "started the scream of whistles which lasted all day."
"Others took it up from the first moment, and there was such a riot of whistles that residents were awakened and began putting on their clothes and rushing downtown."
Rallies, parades
By 6 a.m., celebrants had already held rallies in front of the Sangamon County Courthouse – today's Old State Capitol – the Executive Mansion and the statue of Abraham Lincoln in front of the Statehouse. (The armistice celebration may have been the first demonstration ever held in front of Abe's statue. It had been erected barely a month earlier as part of Illinois' 100th birthday observance.)
But the crowds had just begun to gather. Patteson tried to make sense of the chaos.
When the citizens who had slept through the early morning tumult … came downtown, they found the celebration had been in progress for hours. A bonfire burned in the courthouse square; automobiles, fantastically decorated, were dashing about the streets, loaded with patriots whose lung power was unimpaired.

Impromptu parades were in progress, each on his own hook, and pursuing its own itinerary. Every now and then two or more of these processions would converge at a street corner, impinge and ricochet in different directions or coalesce and go on their noisy way together.

Nobody knew there was so much old junk in Springfield. But behind every automobile and motorcycle trailed a collection of old wash boilers, tin pans and miscellaneous kitchenware, while half of the paraders were beating with sticks on some kind of a metallic noise producer. The din was deafening.

In the big trucks that lumbered about the streets girls sat in the back ends along with boys and hung their feet outside, giving demonstrations of patriotism and hosiery that were edifying as well as spectacular.
Giving in to what had become a de facto holiday, school officials canceled reopening plans. Businesses shut down or didn't open at all. The three dozen coal mines around Springfield canceled their shifts, adding several thousand miners, lunch pails in hand, to the celebratory throng. Streetcars, stymied by massive crowds, abandoned any pretense at keeping to their schedules.
Although most of the day's revelry was unorganized, a group of local businessmen and National Guard officers put together what passed for a formal armistice parade. The route wound through downtown and past Lincoln's home, beginning and ending at the Statehouse Lincoln statue.
Official participants included police and fire units, at least three bands and three National Guard companies, women from the Red Cross, War Bond solicitors and "the entire force of city mail carriers in uniform." Unofficially, the line of march took in anyone who felt like joining in.
"The parade grew as it moved until it extended three and a half miles," Duff wrote. "In addition to those riding and hanging on to automobiles, there were thousands of people walking, and everybody carried flages and horns and whistles and something to beat or hammer."
Kaiser Bill effigies
Many parade displays featured effigies of "Kaiser Bill" (ousted German emperor Kaiser Wilhelm II).
"One group carried a German helmet spiked with a sign proclaiming: 'One lid that never reached Paris,'" Patteson reported.
"A truck filled with girls had a dead rat suspended from the rear with a card attached bearing the word 'Kaiser.' Another striking expression of derision was the dead body of a skunk with a stuffed rooster standing in a triumphant attitude over it. That needed no explanations."
As marchers passed the Ferguson Building on the southwest corner of Sixth and Monroe streets, Patteson reported, "it began to snow."
"They were bits of paper, it is true, but they made a pretty good imitation of a snowstorm, and then somebody started to throw paper streamers around over the trolley wires and telephone poles, and the confetti throwers got busy. It didn't take very long for them to muss the old town up right."
Police knew better than to try to interfere with any of the frivolity, Patteson wrote, but "for all the turmoil, there were few accidents, no fights, no trouble of any kind."
In the afternoon, the Capital City and Watch Factory bands set themselves up at opposite ends of the courthouse square to give improvised concerts, while celebrating residents continued to flow into and through the streets.
"Some ingenious persons mounted a small cannon on an automobile runabout, and as the car drove through the streets a man fired the cannon repeatedly," Duff's story said. "People with rifles strapped to themselves as sedately as if they were going hunting calmly fired them off. And others had revolvers and shot them into the air."
Locomotive parade
About 1 p.m., railway workers hitched together six locomotives from five different railroads (none of which were doing any business anyway), bedecked them in flags, and began driving them back and forth along all the local tracks. They would stop every once in a while and blow their whistles, "just to see how loud those whistles could blow," Duff wrote.
People climbed aboard at each stop. By the time the tour ended, an estimated 500 riders were enjoying a free train excursion.
The biggest crowds of the day jammed downtown from 7 to 10 p.m., spoiling plans to hold a second giant parade in the evening. It was called off "because of the inability of city officials to organize the wild crowd long enough to get it started," the Register said.
Instead, celebrants were treated to more impromptu marches, concerts by the presumably exhausted musicians of the local bands –  augmented by the Girls Military Band of Indiana, in Springfield for reasons that went unexplained in the armistice coverage – and a fireworks show on the Statehouse grounds.
The celebration finally wore itself out about midnight.
'Grand and Glorious'
In a letter he wrote three days later, Dr. Frank Norbury provided a personal look at the armistice celebration.
Norbury had been awakened about 2:30 a.m. by a friend calling to tell him the Great War was officially at an end.
"About 3:30 the whistles began to blow, bells to ring and people beating old tin pans, etc.," he wrote in the letter, which is now in Lincoln Library's Sangamon Valley Collection. "Then pretty soon Edna came to the window and wondered what the noise was. … I yelled the war is over, and they were tickled because they have been worrying about Robert."
Norbury, who had been helping sell War Bonds, later joined the big parade. "It was about 11:30 when we finished. Talk about tired, I just couldn't hardly walk," he wrote.
"Well, it was a 'Grand and Glorious Feeling' anyhow."
The reporters
Newspaper bylines were rare in 1918, but the Journal and Register violated that tradition for their armistice coverage, suggesting they both had assigned their top writers to cover the war's end.
Nellie Browne Duff, 30 years old in 1918, was the natural choice to lead the Journal's reporting on the celebration. Duff was a reporter and "special writer" for the Journal, as well as a sometime movie screenwriter (her credits include such titles as "Carmelita's Revenge" and "The Sculptor's Model"). In 1917 and 1918, however, she specialized in covering, and promoting, home-front activities in Springfield.
She continued that interest afterwards. Duff, with the help of three assistants, compiled the Honor Book of Sangamon County, Illinois, 1917-19, a 1,200-page volume designed to recognize every one of the 4,000 county residents who served in the U.S. military during the war. According to the Honor Book, 134 of those people died of wounds, injury or illness while serving.
Duff's later career took her to Washington State, where she died in 1971.
Walter Lewis Patteson, by contrast, was a classic ink-stained wretch. At age 59, he had spent more than  30 years in Springfield journalism, including stints with every daily newspaper – the Morning Monitor, the Springfield Record, the Evening News, the Journal and finally the Register – published in the city over the period. From time to time, he also covered the legislature and Springfield events for Chicago and St. Louis papers, as well as the United Press wire service.
Patteson, a well-read man, was able "to give to his composition a literary finish not common to hurried newspaper work," a contemporary said of him.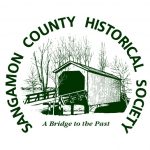 Fittingly, Patteson died at his newspaper desk. He suffered a stroke while writing an editorial for the Register on April 14, 1926.
Original content copyright Sangamon County Historical Society. You are free to republish this content as long as credit is given to the Society.