An estimated 40,000 people watched Dan Patch, the world's most famous harness horse, set a new Illinois State Fair pacing record on Oct. 2, 1906. Dan Patch covered the one-mile fairgrounds track in 1:59¼, the first time a harness horse had ever run a sub-2-minute mile in Springfield.
With horses still the mainstays of farming and local transportation in the early 1900s, harness racing was incredibly popular, and Dan Patch was unmatched as an equine attraction, or maybe any other kind.
"Dan Patch's achievements made him a sports celebrity, possibly the most famous athlete in America until Babe Ruth," Wikipedia says.
His name and likeness were used to sell a vast array of merchandise including whiskey bottles, shot glasses, cigars, coffee, billiard cues and sheet music. At the height of his fame, he earned more than $1 million a year for his owner and was billed as "kindhearted, generous, and a staunch Methodist who never performed on a Sunday."
Dan Patch was never more celebrated than when he came to Springfield in 1906. Three weeks earlier in Minnesota, he had set an unofficial world pacing record with a 1:55 mile. Both records were set in timed trials, not races, and Dan Patch benefited both times because the throughbred "front runners" that galloped ahead of him towed a fabric shield that meant Dan Patch didn't have to overcome wind resistance.
Under a rule that took effect earlier in 1906, a wind shield-aided run wasn't considered a formal record.  Illinois State Fair officials, however, accepted Dan Patch's time with no reservations.
The previous fairgrounds record, 2:00½, had been set in an 1897 race – with no wind shield in place – that featured two other famous pacers, Star Pointer and Dan Patch's sire, Joe Patchen.
(In harness racing, a pacer has a parallel gait: its legs on each side move forward and backward together – when the horse's left legs move forward, the right legs move backward. A trotter races with a diagonal gait – the right front and left rear legs move together, for instance. Whether in a race or time trial, each type of horse pulls a small cart, called a sulky, carrying its human driver.)
Harness races in those days involved several heats. Dan Patch lost only two heats in his career – including one in which his driver held him back, probably to improve the betting take – and never lost a race. He stopped racing against other horses after about 1902, partly because other owners eventually refused to match their horses against him. As a result, most of Dan Patch's career involved trials against the clock.
The Oct. 3, 1906, Illinois State Journal described the scene at the fairgrounds when Dan Patch was set to run.
At 1 o'clock in the afternoon the grand stand was crowded, and tickets were then sold for the space between the stand and the fence. There was a rush for tickets, and an hour later there was a moving mass of humanity. Everyone fought and crowded toward the race track. Men, women and children occupied space on the bleachers. The rail surrounding the track also served as seats for a large number. Persons took positions for a quarter mile on either side of the wire, and patiently awaited the arrival of the famous pacer.
The horse, almost as famous for his tendency to play to the crowd as for his speed, didn't disappoint.
Coming down the stretch with a burst of speed that was increased with every step, Dan Patch, king of all pacers, yesterday set a new mark for the state fair ground track. His time was 1:59¼, made over a fast track and with all conditions to his liking.

When the great pacer completed the mile, 40,000 people … cheered him to the echo. …

Dan Patch appeared to know that he had satisfied his admirers and tossed his head to either side. Driver (Harry) Hersey was pleased and so was the large crowd.
Dan Patch's 1906 appearance was one of three times he ran in Springfield, all in timed trials.
His first local exhibition took place on Oct. 5, 1904. Overworked and only three weeks recovered from a life-threatening case of colic, a worn Dan Patch accomplished a 2:04 mile, well off his then-official world record of 1:56¼.
Both the 1904 and 1906 time trials were Illinois State Fair attractions (the fair was held in the fall at the time). Dan Patch's third and last appearance at the fairgrounds, on July 31, 1908, however, was under the aegis of the short-lived Springfield Racing Association.
The horse was past his peak by then, and his 1908 mile was timed in 2:07¼, considerably off his earlier performances. But it was still three-quarters of a second faster than the 2:08 Dan Patch's owner had guaranteed in his contract with the SRA.
Dan Patch died July 11, 1916. He was buried in an unmarked grave at his owner's stable complex in Minnesota.
As of 2018, the world pacing record was held by Cambest, who ran a mile on the Illinois State Fairgrounds track in 1:46 1/5 on Aug. 16, 1993.
Cambest's time was more than two seconds faster than the previous record. "This was more of an obliteration of a record than a mere record-setting effort," wrote State Journal-Register sports reporter Jim Wildrick.
More on Dan Patch: Our thanks to Charles Leerhsen, whose book Crazy Good: The True Story of Dan Patch, the Most Famous Horse in America (2008) alerted us to Dan Patch's appearances in Springfield.
Springfield Racing Association
At least three organizations, separated from each other by decades, operated under the name "Springfield Racing Association."
The first, founded in the mid-1860s, held race meets at a track near today's Illinois Corrections Academy (then the site of a Lutheran college known as Illinois State University). The Illinois State Register published a brief item on Nov. 8, 1864:
SPORT AHEAD. – We understand that the managers of the Springfield Racing Association proposes to entertain our people next week with a series of one, two, three and four mile races, to continue throughout the week. Several nags have already been imported from Kentucky, and many more are expected from other states. The track is being placed in proper repair, and we are told that it is contemplated to make the accommodations in every way suitable to parties disposed to patronize the amusements of the turf.
That original association also sponsored the 11th annual Great National Horse Show, an itinerant exposition that was held at the driving park in August 1865.
In 1866, Springfield businessman B.S. Osborn leased the track and opened it for use as a driving park. Anyone could bring a horse or harness setup to the park, for a price: $10 for the entire 1866 season, or 25 cents for single admissions.
"Persons having horses to train, or wishing to drive for pleasure, will find this one of the finest mile tracks in the west," according to a Journal advertisement in April 1866. However, Osborn warned, "Females of doubtful character will not be admitted under any circumstance."
Osborn seems to have operated the park only one year. The first Springfield Racing Association apparently folded in the late 1860s, although the park remained in use for several years.
"The old race course north of the city has, it seems, been converted into a regular driving park," the Register reported in 1876. "From present appearances, the park seems destined to become a fixed institution among us. The grounds should be fixed up a little, though. …"
The second Springfield Racing Association, the one that sponsored Dan Patch's 1908 exhibition, was improvised in response to Decatur's misfortune, according to a Journal story that May.
The dates secured are those which originally were those of the Decatur association. When the temperance wave hit that town and as a result saloons were voted out, the (Great Western) racing association canceled the dates and refused to put on a meeting. Springfield horsemen at once took up the matter and have pushed things to a successful point, so far.
With the boost from Dan Patch, the association's July 1908 meet was well attended. Attendance sagged the next year, however, and the 1909 meet ended up $3,000 in the red. As a result, Springfield relinquished its franchise in the Great Western Racing Association.
The third version of the Springfield Racing Association was even less successful than the other two. A group of Springfield harness horse fanciers revived the name in 1937 in hopes of promoting a match race between two top trotters – Greyhound, which had raced to the world trotting record (1:57¼) at the 1936 Illinois State Fair, and Muscletone, the Italian champion.
The group put up a $40,000 purse for the race, which was scheduled for Oct. 8, 1937, at the fairgrounds. Muscletone, however, canceled in September, and the Springfield Racing Association went out of business.
Joe Joker
For a time, Springfield had its own champion, of sorts, in Joe Joker, "the king of guideless harness horses." Joe Joker, a sorrel pacer, raced against conventional harness horses without a driver, sulky or hobbles (straps connecting front and rear legs to keep a horse from breaking stride).
Will H. McConnell, co-owner of the Illinois State Journal, paid $500 in 1904 to buy Joe Joker from former Sangamon County Sheriff Ben Brainerd. According to a 1908 article in the Register:
He was raced in a matinee or two on the local track before it was discovered that he would race without a driver. Mr. McConnell then commenced training the horse to go miles alone and it was but a short time before the horse was pacing miles, without harness or driver, in better than 2:30. Since that time he had been going faster and faster and last year paced a mile in 2:16. …

He is always a favorite with the crowd and his appearance on the track is invariably greeted with an outburst of applause.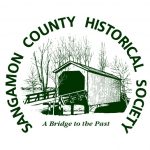 McConnell sold Joe Joker to a Jacksonville man in 1908 for $5,000.
Original content copyright Sangamon County Historical Society. You are free to republish this content as long as credit is given to the Society.