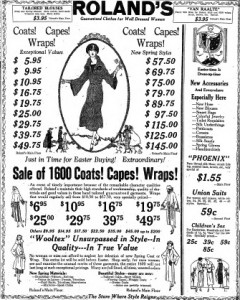 W. H. Roland, who owned a Bloomington women's clothing store, opened his second outlet in downtown Springfield in 1912.
Contents of the Roland store on the east side of the Old Capitol Plaza were badly damaged by smoke and water in a 1915 fire that destroyed the nearby Boston Store, although the building itself was unharmed. The Boston Store fire did convince city officials to switch from steam-powered fire engine pumpers to gasoline engines.
In a deal with the John Bressmer Co., Roland's moved to Sixth and Adams streets in 1921, holding its formal grand opening in the new space on Oct. 3, 1921. "Full stocks of ladies' wearing apparel are carried the year round," the store boasted in ads.
Roland's was purchased by Lane Bryant and in 1981 by NSR Inc. The store closed in spring 1991. The site is now the home of the Delano Law Offices.
Sources: Illinois State Journal, Dec. 8, 1915 and Jan. 27, 1921 (microfilm records); department store summary, Sangamon Valley Collection at Lincoln Library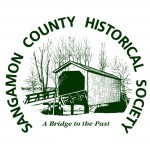 Original content copyright Sangamon County Historical Society. You are free to republish this content as long as credit is given to the Society.