Maj. George W. Ford was a rarity – an African-American who held a supervisory position in early 20th-century Sangamon County.
Ford (1847-1939) also was an outspoken opponent of the Ku Klux Klan and racism, a friend of both W.E.B. DuBois and Theodore Roosevelt, and a "Buffalo Soldier." And family tradition says he was a descendant of George Washington.
Ford served as superintendent of Camp Butler National Cemetery from 1906 to 1930. At the time, the post was a hybrid that required both management and maintenance skills. Although the job was sometimes also given the title of "custodian," it was a professional position administered by the federal government.
Superintendents were required to have been wounded in service and to have received honorable discharges. In the case of Camp Butler, a former prisoner-of-war and Union Army training camp made a national cemetery after the Civil War, its superintendents, up to and including Ford, all had held commissions as officers in the U.S. Army. Ford was one of the first African-Americans appointed a national cemetery superintendent anywhere in the nation.
At Camp Butler, Ford was responsible for designing and caring for the cemetery grounds, keeping the cemetery's records, greeting visitors and working with relatives of those to be buried there.
When he came to Camp Butler, Ford already had more than 20 years experience in national cemetery administration, working previously in Tennessee, Louisiana, South Carolina, and Kansas.
His military career began when he enlisted in the 10th U.S. Cavalry in 1867. The 10th, one of several all-black regiments collectively known as the Buffalo Soldiers, was formed after the Civil War; it saw combat during the western conflicts with Native Americans in the 1870s.
According to a 1931 Illinois State Journal article, Ford was a member of Troop L and participated in the Beecher Island fight of 1868. Ford also would have belonged to the 10th in December 1868, when the regiment was among support units for Lt. Col. George Armstrong Custer's attack on a Cheyenne village along the Washita River in Oklahoma, an engagement often characterized as a "massacre."
In 1922, Illinois State Journal columnist A.L. Bowen summarized part of Ford's experience as a trooper at Fort Arbuckle, Okla. (then the Indian Territory):
Mr. Ford relates many stories of his experiences that were full of thrill and excitement, danger and hardship. It was no uncommon thing to be lost and to suffer from thirst and hunger while detachments from the forts scoured the wild country for the missing trooper. Not always was he found and frequently his bones marked the burning plains or lodged in a thicket along some stream.
"We used to see plenty of buffalo," Ford told Journal editor Emil Smith in 1934, "and we traveled from Kansas to the Rio Grande without crossing a railroad."
Ford was discharged with the rank of regimental quartermaster sergeant in 1877 and went to work for the national cemetery service the next year.
Ford interrupted his national cemetery service, at age 50, to enlist in the Spanish-American War. He was commissioned a major in the 23rd Kansas Infantry, another African-American unit, and served with the regiment during occupation duty in Cuba.
According to a biography compiled by Peoria's The Traveler Weekly published on Ford's Findagrave page:
Theodore Roosevelt was accused of making some disparaging remarks in a Topeka, Kansas journal about the dependence of colored soldiers on their white officers during the Spanish-American War. George wrote to him with his concerns and sent the clippings for his review. Theodore Roosevelt wrote back that the colored troops under his command served honorably and that the article had misquoted him. (Manuscript Division from the Library of Congress, Reel 6, 324, 325). The two friends continued with their friendship and corresponded many more times through the ensuing years.
One result was that Ford became a Kansas delegate to the Republican National Convention of 1900, where Roosevelt was nominated for vice president.
Ford was named Camp Butler superintendent in November 1906. A 1922 article called the cemetery "one of the beauty spots in the county" and gave Ford the credit.
The fact that the graves are all flush with the earth instead of rising in mounds alter the appearance from that of an ordinary cemetery to a quiet resting place for the soldier dead, and the continuous supervision and painstaking care afforded the entire plot, combined with the historical background, makes it one of the most interesting places in Central Illinois.
A year after his Camp Butler appointment, Ford was among those protesting a planned appearance here by Thomas Dixon, author of The Clansman, a vitriotically racist, pro-Ku Klux Klan book that Dixon also turned into a play. Dixon was to be in Springfield in December 1907 to promote a new production of the play at the Chatterton Opera House.
A committee representing "5,000 colored citizens of this municipality" urged Mayor Roy R. Reece to issue a restraining order to block the presentation. In a followup letter published in the Dec. 7, 1907, Illinois State Register, Ford aimed his criticism specifically at Dixon, a former minister who Ford called the "chief propagandist of race hatred."
"As the purpose of this play is to arouse all that is evil in the hearts of both races, we call upon all fair-minded people to refrain from attending the performances," Ford wrote. "We appeal to the liberal-minded people of Springfield not to encourage by their presence this man Dixon, whose teachings are so at variance with those of the Master he pretends to serve."
Reece took no action on the citizens' committee's appeal, and The Clansman played to capacity audiences at the Chatterton. Dixon, however, canceled his Springfield appearance in order to fight a similar restraining order against the play in Chicago.
The Springfield race riot, of course, took place only nine months after The Clansman's success in Springfield. How much the play contributed to racial enmity in Springfield will always be an open question.
According to a short biography on the Camp Butler web site, Ford was a charter member of DuBois' Niagara Movement, a precursor of the NAACP.
"The two men became lifelong friends, sharing in their belief of equal rights for blacks," Ford's Findagrave biography says.
When the KKK revived in the Springfield area in the 1920s, Ford was part of an anti-Klan movement organized in response. And Findagrave adds that Ford was the first president of the Springfield branch of the NAACP.
Appropriately, George W. Ford is buried at Camp Butler.
Was George Ford the great-grandson of George Washington?
Historians discount family tradition that Maj. George W. Ford was a descendant of George Washington, but there is evidence to suggest that Ford was part of the broader Washington family.
George Ford was born on Washington's plantation, Mount Vernon, and he and his siblings were educated at the Mount Vernon schoolhouse, according to the Findagrave biography. As a child, he reportedly sold pictures to Mount Vernon tourists.
The family tradition says Ford's grandfather, West Ford, was the son of George Washington and a woman named Venus, a slave who lived on the plantation of Washington's half-brother, John Augustine Washington.
Other researchers, including Mary V. Thompson at Mount Vernon, have found no evidence that Venus and George Washington ever met; in fact, they seem never to have been in the same place together. The historians also note the longstanding suspicion that Washington may have been sterile anyway. (Martha Washington bore four children with her first husband, but none with George.)
However, the non-family historians suspect that West Ford was the offspring of one of the three sons of John Augustine and Hannah Washington. The New York Times, reporting on the issue in 1999, noted:
West Ford seems to have had a secret, one that was known to John Augustine and Hannah Washington and that caused them to treat him with special favor. A portrait preserved at Mount Vernon shows that West Ford was fair skinned, suggesting that his father was white. According to the oral history … West Ford attended church and went hunting with Augustine and  Hannah Washington, as if he were a family member. Hannah, in her will, directed that West should be inoculated against smallpox, trained in a trade until he was 21, and then freed, the only one of her slaves to be freed. …

Could Hannah have freed West Ford because she believed him to be (her grandson)? Oral traditions often have large elements of truth "but sometimes things get a little skewed," Thompson said.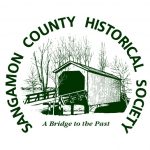 Family members have said they hope DNA testing will someday determine which theory is correct.
Hat tip: To the Springfield and Sangamon County African American Historical Museum, whose display on local African-American families drew SangamonLink's attention to Maj. Ford.
Note: This entry has been edited to correct the first name of Mayor Roy Reece. 
Original content copyright Sangamon County Historical Society. You are free to republish this content as long as credit is given to the Society.