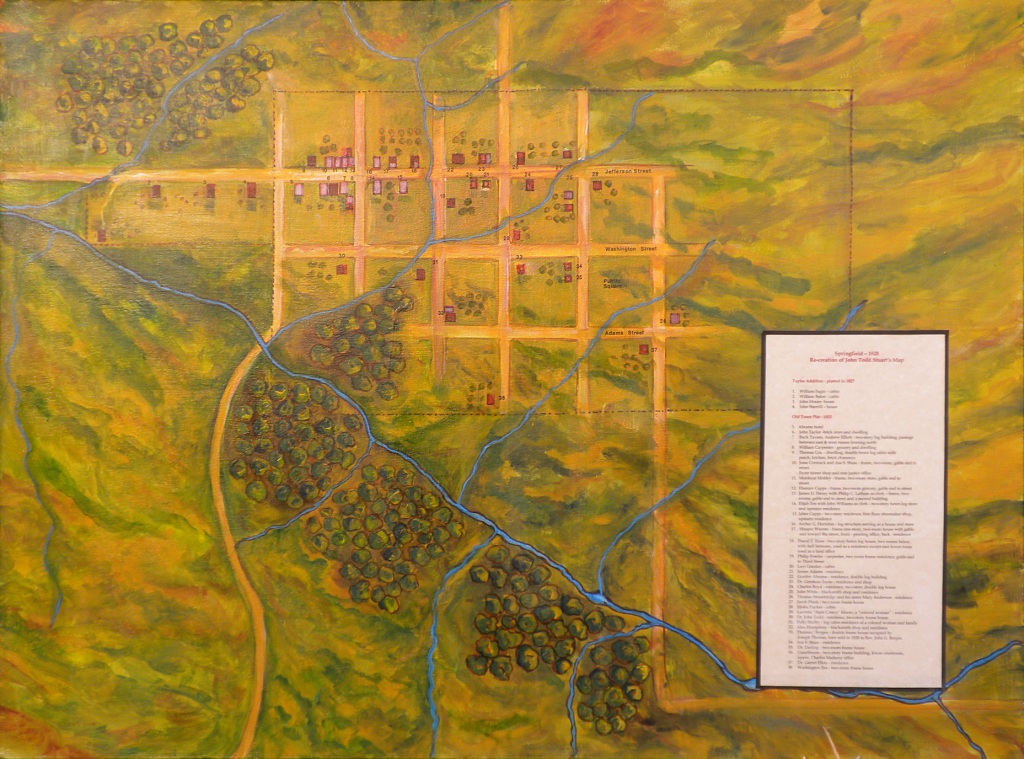 The map above, which gives a sense of Springfield's layout in 1828, is a reconstruction based on two primary sources: the reminiscences of Zimri Enos, contained in Papers in Illinois History and Transactions of the Illinois State Historical Society for the Year 1909; and a speech given by John Todd Stuart to the county Old Settlers Reunion on Sept. 4, 1877.
The map was painted by Sonia Lang in 2008 for the Elijah Iles House exhibit , "Springfield as an Urban Frontier, 1818-1836," sponsored by Farrell Gay.  The map interpretation was by Linda Garvert of the Sangamon Valley Collection at Lincoln Library.  The original of the painting is in the Iles House.
Viewing note: Click on map, then click magnifier to see map numerals. The legend will still be difficult to read, but here is the text:
Springfield – 1828
Recreation of John Todd Stuart's map
Taylor Addition – platted in 1827
1. William Fagin – cabin
2. William Baker – cabin
3. John Moore – house
4. John Sherill – house
Old Town Plat – 1825
5. Abrams hotel
6. John Taylor – brick store and dwelling
7. Buck Tavern, Andrew Elliott – two-story log building, passage between east & west rooms fronting north
8. William Carpenter – grocery and dwelling
9. Thomas Cox – dwelling, double hewn log cabin with porch, kitchen, brick chimneys
10. Jesse Cormack and Asa S. Shaw – frame, two room, gable end to street. Front tinner shop and rear justice office
11. Mordecai Mobley – frame, two-room store, gable end to street.
12. Ebenzer Capps – frame, two-room grocery, gable end to street
13. James D. Henry with Philip C. Latham as clerk – frame, two-rooms, gable end to street and a second building
14. Elijah Iles with John Williams as clerk – two-story hewn log store and upstairs residence
15. Jabez Capps – two-story residence, first floor shoemaker shop, upstairs residence
16. Archer G. Herndon – log structure serving as a house and store
17. Hooper Warren – frame one-story, two-room house with gable end toward the street, front – printing office, back – residence
18. Pascal P. Enos – two-story hewn log house, two rooms below with hall between, used as a residence except east lower room used as a land office
19. Philip Fowler – carpenter, two-room frame residence, gable end to Third Street
20. Levi Goodan – cabin
21. James Adams – residence
22. Gorden Abrams – residence, double log building
23. Dr. Gershom Jayne – residence and shop
24. Charles Boyd – residence and shop
25. John White – blacksmith shop and residence.
26. Thomas Strawbridge and his sister Mary Anderson – residence
27. Jacob Plank – two-room frame house
28. Elisha Tucker – cabin
29. Lucretia "Aunt Creecy" Moore, a "colored woman" – residence
30. Dr. John Todd – residence, two-story frame home
31. Polly Shelby – log cabin residence of a colored woman and family
32. Alex Humphrey – blacksmith shop and residence
33. Thomas/Bergen – double frame house occupied by Joseph Thomas, later sold in 1828 to Rev. John C. Bergen
34. Asa S. Shaw – residence
35. Dr. Darling – two-room frame house
36. Courthouse – two-story frame building, lower courtroom, upper, Charles Matheny office
37. Dr. Garret Elkin – residence
38. Washington Iles – two-room frame house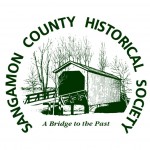 Original content copyright Sangamon County Historical Society. You are free to republish this content as long as credit is given to the Society.