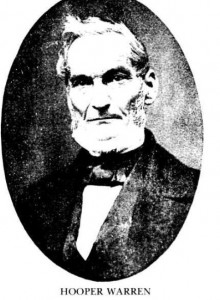 Hooper Warren (1790-1864) was a peripatetic journalist who edited Springfield's first newspaper and played an important role in keeping slavery out of Illinois. His stay in Springfield, however, was brief.
Warren had made the Edwardsville Spectator, which he edited from 1819 to 1824, the best-read weekly newspaper in the state, thanks partly to a controversy over whether Illinois should hold a constitutional convention in order to legalize slavery.  Warren vehemently opposed the idea, and voters rejected the convention in an 1824 referendum.
Warren almost immediately moved to Cincinnati to work at an anti-slavery paper there, but returned to Illinois in less than a year. With the state's population center by now moving quickly northwards, Warren relocated the Spectator to Springfield in 1826 and renamed it the Sangamo Spectator. As of 1828, the paper was being printed from a building on the north side of Jefferson Street east of First Street (a spot identified as No. 17 on the reconstructed 1828 map of Springfield).
By then, however, the Spectator had lost momentum. Warren sold the press and he and his family moved to the lead-mining metropolis of Galena in 1828, but his newspaper there also failed. With his family on the verge of starvation, Warren was offered a chance to return to journalism in Springfield – with a guarantee, probably from Gov. John Reynolds, of 750 subscriptions.
Instead, however, he went to Putnam County, where he held several county government positions. He was living in Henry when he died.
Note: The Sangamo Spectator is sometimes considered an early ancestor of today's Springfield State Journal-Register. Although the SJ-R claims the title of Illinois' oldest newspaper, it traces its own history back only to 1831's Sangamo Journal, published by Simeon and Joseph Francis.
More information: Hooper Warren's colorful career was recounted in "'I Am in Purgatory Now:' Journalist Hooper Warren Survives the Illinois Frontier," an article by Everett Kindig published in the fall 1986 Journal of the Illinois State Historical Society.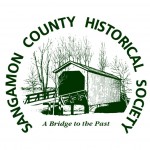 Original content copyright Sangamon County Historical Society. You are free to republish this content as long as credit is given to the Society. Learn how to support the Society.