The Delmonico Restaurant operated from about 1898 to 1905 at 126 N. Fifth St. in Springfield. Although the name didn't change over the period, the operators did. The Delmonico's first owner apparently was William A. Stone, who ran the place from 1898 until about 1900. He was followed by Lewis M. Cheek and then William Carver.
The Delmonico's slogan was "Best Meal in the City for 25 Cents … All We Ask is a Trial."
After the name "Delmonico" was abandoned, A.A. Kahl and then Desdemona Holland operated restaurants at the same address, apparently under their own names. As of 1914, however, the storefront was occupied by the Capital Trunk Factory, which, as the name implies, sold trunks and suitcases.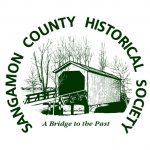 The building presumably was torn down when the Orpheum Theater was constructed in 1927.
Hat tip: Thanks to Floyd Roy for the photograph. His grandmother, Tracie Barnes Roy, is the third waitress from the left.
Original content copyright Sangamon County Historical Society. You are free to republish this content as long as credit is given to the Society.