Calvary Cemetery, Springfield's Catholic cemetery, operated for almost 70 years as almost two cemeteries – one for Germans and the other for everybody else.
Calvary was founded in 1857, when two of the city's earliest local parishes bought 16 acres of land adjoining Oak Ridge Cemetery, the brand-new municipal burying ground. The first interment at Calvary took place in 1860.
Twelve of the 16 acres were set aside for members of Immaculate Conception Parish (not to be confused with today's Cathedral of the Immaculate Conception), which was heavily Irish. The other four acres were used by Ss. Peter & Paul Parish, which was predominantly German. The churches' pastors controlled their respective portions of the burial ground.
The two sections continued to be administered separately, although both were known generically as "Calvary Cemetery," for almost 70 years.
That changed only a few months after the Rev. James Griffin was installed as bishop of the Springfield diocese in February 1924. According to the 1928 Diamond Jubilee history of the diocese:
In April, 1924, Right Reverend Bishop James A. Griffin, D.D., called upon the Board of the German Catholic Cemetery Association, to explain to them the feasibility of combining the two associations of St. Mary (editor: Immaculate Conception Church was known colloquially as "Old St. Mary's") and the German Catholic Society to form one association: "Calvary Cemetery." The union was brought about by the unanimous vote of the two Boards on July 14, 1924.
Griffin became president of the new association. The original deal provided that the the vice president had to come from Ss. Peter and Paul; that provision was dropped before St. Pete's closed in 2001.
Calvary Cemetery, 2001 N. First St., covers about 80 acres and, as of November 2017, held about 50,000 burials.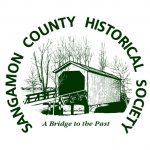 Although Calvary and Oak Ridge cemeteries have separate entrances, no fence or other barrier separates Oak Ridge from Calvary. The only way to tell where one ends and the other begins is along First Street, where the exterior fence changes at the boundary between the two cemeteries.
Original content copyright Sangamon County Historical Society. You are free to republish this content as long as credit is given to the Society.