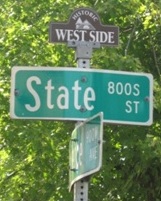 The West Side Capitol neighborhood, an area  of Springfield running west of the Statehouse, is one of five areas of Springfield that have been exhaustively studied by Fever River Research of Springfield. The resulting reports  are extraordinarily informative historical and archaeological analyses. (The West Side Capitol report formerly was available online; however, Fever River's website was hacked in 2014, and this report is among several that, as of March 2015, had not yet been restored.)
Fever River Research says it "specializes in cultural resource management projects that are associated with historic properties that date to the recent past.  We conduct a variety of projects that include historical archaeology, architectural studies, National Register of Historic Places nominations, and traditional history."
Fever River "somewhat arbitrarily" defines the West Side Capitol neighborhood as "bounded by Walnut Street on the west, College Street on the east, Jefferson Street on the north, and Lawrence Avenue on the south." The north and east boundaries of the area are coterminous with the boundaries of the Historic West Side Neighborhood Association, but the HWSNA area extends beyond the report areas to approximately Chatham Road on the west and South Grand Avenue on the west.
The report focuses on the various styles of residential architecture demonstrated in the area, but also includes disquisitions on such topics as development of the Pasfield Park and Walnut Court cul-de-sacs and the impact of the Monroe Street trolley line.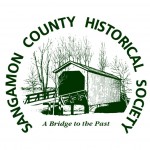 Original content copyright Sangamon County Historical Society. You are free to republish this content as long as credit is given to the Society.