This article has been updated with more information about Joey Sternaman and with author William Barry Furlong's account of how Dutch Sternaman bowed out as co-owner of the Chicago Bears.
Two brothers from Springfield played important roles in the history of football. One co-founded the Chicago Bears. The other, by starring in the most notorious football game ever played in central Illinois, helped bring about tighter rules on amateur sportsmanship.
The brothers – Edward "Dutch" Sternaman and Joseph "Joey" Sternaman – began their careers as star athletes at Springfield High School.
Edward "Dutch" Sternaman (1895-1973)
Dutch Sternaman was a member of the track and basketball teams at SHS. As a senior in 1914-15, he was football captain and an all-stater in basketball (SHS finished second in the 1915 state basketball tournament).
Dutch went on to also star in U of I football – he lettered in 1916 and 1917 was elected captain for 1918, but was drafted for World War I. After service at Fort Riley, Kan., he returned to the U of I to play for Bob Zuppke's conference champions in 1919.
Following that season, Sternaman signed up to play incognito for Arcola's town team, which was slated to take on a club team sponsored by the A.E. Staley corn processing plant in Decatur. According to the company's web site:
(Sternaman) was asked to invite several other college players to compete that day for $150 each. This he did without knowing the scheduled opponent was the A.E. Staley club team. The Staley team caught wind of Arcola packing their team with "ringers" and never showed up. When Arcola brought this to the attention of A.E. Staley, he promised to pay all expenses caused by the forfeited game.
The abortive game, however, led to Sternaman going to work for Staley after graduation in 1920. Aside from working in the company boiler room, Sternaman played on the Staleys under their new coach, George Halas, leading the team in scoring in both 1920 and 1921. When Staley dropped its team sponsorship in 1922, Sternaman joined Halas in creating the Chicago Bears.
Sternaman played for the Bears through 1927, after which he continued to co-own the team with Halas. The deal ended in 1931, when the Depression compounded the Bears' financial problems. Dutch Sternaman's outside businesses also suffered from the downturn. The Staley history says:
Both Sternaman and Halas also worked other jobs to support themselves, especially in the off season. Sternaman sold real estate and insurance, owned bulk oil service stations, was a salesman for Bauer and Black [sports] Supply Company and for a very brief time was manager of the newly-formed Chicago Blackhawk hockey team. Even with the signing of All-American "Red" Grange, the Bears had an increasingly difficult time breaking even. The Great Depression made things worse and the franchise could not support two families. In September 1931 Sternaman and Halas agreed to buy one or the other's half of the team. According to the Sternaman family, the arrangement was that their bids would be sealed and that only Sternaman, Halas and their attorneys would be privy to the financial details. The agreement of the buy-out was that high man buys at his price. Halas submitted the winning bid of $38,000 and no one, except for those at the meeting, ever knew what Sternaman's bid was.
In a 1962 profile for Chicago Scene magazine, William Barry Furlong wrote a more detailed, though slightly different, account of how Halas became sole owner of the Bears. Sternaman, Furlong wrote, "was a halfback whose partnership offered Halas an alluring temptation: he didn't have to pay him."
For years the two worked together until, as one man very close to Halas recalls, "they were watching each other more closely than they were watching the business." Sternaman didn't agree with Halas' coaching techniques or his strategy and in 1929 their disagreement became so pronounced that the next season Halas was forced to step aside to let a "neutral" man, Ralph Jones from Lake Forest Academy, become the coach.  …

The Bears themselves lost $18,000 that season and Halas found that Sternaman was willing to sell out for $38,000. Halas went to several people to borrow money – to his mother, to one of his players, Jim McMillen …, to an old school chum, Ralph Brizzolara …, to the mother of George Trafton, an historic Bear center, and finally to Charley Bidwill, soon to be owner of the rival Chicago Cardinals. Bidwill not only lent him money but arrange for a bank loan for Halas.

"Without Bidwill, Halas couldn't have raised all the money, says one Bear insider, "and I think there was something in the contract that if Halas didn't pay in full, the whole club would revert to Sternaman." Thus but for the grace of Charley Bidwill, it would have been Dutch Sternaman – not George Halas – that would have been up for canonization today.
As of September 2016, Forbes magazine estimated the value of the Chicago Bears franchise (still largely owned by Halas heirs) at $2.7 billion.
Sternaman played eight years of pro football, counting two years with the Staleys. He is credited with 25 rushing and two receiving touchdowns in his career.
Aside from a few years coaching at North Park College near Chicago, Dutch Sternaman spent his post-football years running a petroleum products company. He is buried in Elmhurst.
Joseph "Joey" "Little Dutch" Sternaman (1900-88)
Joe Sternaman's playing weight was at most 150 pounds, nearly 30 pounds less than his brother's, but he echoed Dutch's athletic achievements at SHS and elsewhere. A 1991 State Journal-Register article about the brothers characterized the younger man's high school career.
Joe "Little Dutch" Sternaman, class of 1919, was an all-state quarterback his senior year and, according to the 1919 Capitoline (the SHS yearbook) was every bit as good a kicker as Ed. In a game against Jacksonville, Joe kicked a field goal from the 50-yard line.

He apparently was a terror on the basketball court as well.

"Little Dutch Sternaman … was always game and ready to fly into his enemies," read the 1918 Capitoline. "So that they often thought that they had been struck by a submarine."
Joe also followed in Dutch's footsteps to the University of Illinois. Following a breakout performance in the Illini's upset of Ohio State in 1921, Sternaman was in line to be the U of I's starting quarterback in the 1922 season.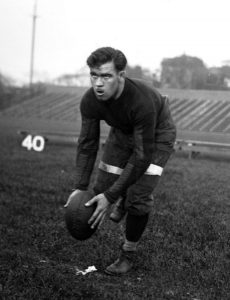 In January 1922, however, the Associated Press revealed that he and eight other U of I players had participated, using fake names, in an annual grudge match between town teams representing Carlinville and Taylorville. Taylorville (the Blacksmiths) signed up the U of I players after learning that Carlinville (the Macoupin County Democrats), planning to avenge its loss the previous year, had enlisted a teamful of ringers from Notre Dame.
The game was played on Nov. 27, 1921. Howard Roberts wrote the most detailed account of the game in his book The Chicago Bears (1947).
Betting on the return match in '21 was terrific, with almost every citizen of the two towns having placed at least a small sentimental wager. It is said that roughly $100,000 had been bet by each town.

When Carlinville's team trotted out on the Taylorville field, the homefolks' hopes sank. Not a single man in the line-up was a member of the original Carlinville eleven! … (Taylorville followers) resigned themselves to a resounding reversal, both athletically and financially. But they reckoned without the cunning of Grover Hoover, coach of the team.
The Taylorville regulars took a 7-0 lead in the first half, thanks to a trick play engineered by quarterback Charlie Dressen (a Decatur native and already a professional athlete, Dressen was more or less a legitimate ringer; he later became famous as a major league baseball player and manager). The Carlinville/Notre Dame team was confident it could turn the game around in the second half. But, as Roberts continued the story:
Two minutes before the second half was to start, out on to the field trotted a new and strange outfit. They wore Taylorville uniforms, but they weren't the Taylorville players. With machine precision they swung into formation. A half-pint quarterback, his face painted and crisscrossed with strips of adhesive tape, barked signals in a staccato voice that sent shivers down the backs of all Macoupin County. And well it might, for that little quarterback kicked three field goals in the second half as Taylorville won, 16 to 0.

The new Taylorville hero, for all his disguise, was readily recognized as Joey Sternaman who, together with six (actually eight) other Illinois players including Laurie Walquist and Jack Crangle, backfield stars, had been brought down from Champaign by the astute Grover Hoover, who had learned that Carlinville had "loaded" its line-up with Notre Dame players. He was fighting fire with fire.
While never proved, the assumption was that the college players on both sides were paid to participate – although possibly not very much, considering the size of the bets made by residents of the two towns. (Rumors about the ringers had spread widely within each community, making their respective fans think they had sure things.)
Joe Sternaman always said he received no money – he said he played in the game because it was sponsored by the American Legion. Nonetheless, both the U of I and Notre Dame banned all the ringers from further participation in college sports. Notre Dame lost two All-American football players and the captains of the basketball and track teams; in addition to Sternaman, Illinois banned two two-way football/basketball stars and its top track athlete.
The scandal also led the Big Ten conference to hire its first commissioner and take other steps to keep professionalism out of college athletics.
"Professionalism," Howard Jones, athletic director of the University of Iowa, said a few weeks after exposure of the Carlinville/Taylorville machinations, "will kill university athletics if it should continue to creep in."
Those moves did no harm to Joey Sternaman, who immediately signed to play for his brother's Bears, whose first season was in fall 1922.  That year, he and Dutch combined to score 73 of the Bears' 123 points.
Over his career, Joey rushed for 21 TDs and passed for 10 more for the Bears (and briefly the Duluth Kelleys) between 1922 and 1930; a drop-kicker, he also added extra points and field goals. Not included in his Bears record is 1926, when Sternaman founded and played for his own pro team, the Chicago Bulls. They folded after a single season.
Joe Sternaman was named first-team All-Pro in 1924 and '25, the Chicago Tribune reported in its 2019 compilation of the 100 greatest Bears of all time. Joe, whom the Tribune called the Bears' "first great quarterback," was listed at No. 96.
"Despite always being one of his team's smallest players at 5-foot-6 and 135 to 150 pounds, he also always was one of the toughest," the Tribune's Will Larkin wrote, adding a quote from Grantland Rice: "139-pound Joe Sternaman could wreck any 200- or 250-pound man he ever saw in a rough-and-tumble."
Joe Sternaman went into the sheet-metal business following his retirement from football. He is buried in Forest Park, Ill.
The Sternamans were both inducted into the Springfield Sports Hall of Fame as part of its charter class in 1991.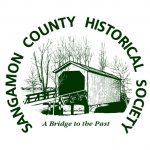 Hat tip: To Robb Paul of Prairie Archives antiquarian booksellers, who brought the story of the Carlinville-Taylorville grudge match, and thereby that of the Sternaman brothers, to our attention.
More information:  William Barry Furlong's article, originally titled "Exploring the Halas enigma" was reprinted in The Fireside Book of Football (1964), edited by Jack Newcombe.
Original content copyright Sangamon County Historical Society. You are free to republish this content as long as credit is given to the Society.