Opened in 1924,the Maid-Rite Sandwich Shop at 118 N. Pasfield St. is thought to be the oldest sandwich shop in continuous operation in Springfield. It also claims to have the first drive-up window in the U.S. (The window originally was walk-up; customers would eat their sandwiches while standing.)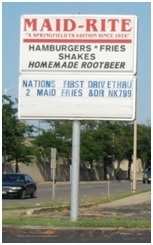 The shop was founded by Arthur Knippenburg, but he gave the outlet to an old friend, Clyde Holbrook, after only a few weeks.
The restaurant became part of Maid-Rite, an Iowa-based chain offering "loose meat ground beef" sandwiches in 1930.
Keith Sculle, co-author of Fast Food: Roadside Restaurants in the Automobile Age, has written that Springfield's Maid-Rite is "a rare architectural survivor and a significant landmark." It is listed on the National Register of Historic Places.
More information: National Register application, on file in the Sangamon Valley Collection at Lincoln Library.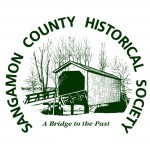 Original content copyright Sangamon County Historical Society. You are free to republish this content as long as credit is given to the Society.