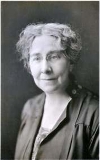 Susan Wilcox (1866-1943) taught English and other subjects at Springfield High School for 46 years, nurturing such budding talents as Vachel Lindsay and Robert Fitzgerald. Lindsay later called Wilcox his "noblest and most faithful friend of my life."
Wilcox was an educational innovator at SHS, starting a literary magazine and creating journalism, debate and drama classes. She also inspired other teachers. "Last Friday," SHS principal Lyman Davis said during a tribute to Wilcox held a year after her death, "a member of our faculty made mention of the fact that she learned so much more about teaching English from Miss Wilcox than she did in all her college work, including post-graduate study."
Aside from her teaching, Wilcox was one of the central figures in a group of literary and political visionaries — also including Lindsay, Willis and Charles Spaulding, Maydie and George Lee, V.Y. Dallman, Elizabeth Graham and others — who agitated and improved Springfield in the early 20th century.
Wilcox spent her retirement years working to preserve the Vachel Lindsay Home, now a state historic site, and Lindsay's memory.
"Miss Wilcox was loved citywide," Graham later told an interviewer for the Oral History Project at Sangamon State University (now the University of Illinois Springfield). "She was the type of person that you could revere her for her powers, but while she was a dignified person, definitely a dignified person, she was a loved person. There was something so forceful, and something so intelligent and something so well educated. She was a leader."
Wilcox is buried at Oak Ridge Cemetery.
More information: Unsung Heroines: A Salute to Springfield Women, Melinda Fish Kwedar (1977)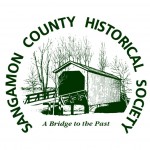 Original content copyright Sangamon County Historical Society. You are free to republish this content as long as credit is given to the Society. Learn how to support the Society.