Dennis Williams (1853-90), born a slave in Mississippi, became an acclaimed crayon artist in 1870s' and 1880s' Springfield.
Williams was completely self-taught, partly because many teachers refused to accept a black youth as a student.
However, he eventually set up a studio and regularly advertised in Springfield newspapers as "the old reliable crayon artist." He was commissioned to do portraits of many prominent residents of Springfield and Illinois, including Gov. Shelby Moore Cullom, Lt. Gov. John Hamilton and House Speaker Horace Thomas. Williams' works also won awards at both the Illinois State Fair and Sangamon County Fair.
Williams left Springfield in 1889 and died on Dec. 29, 1889 in El Paso, Texas.
"Mr. Williams had been in poor health for about a year, and about two months ago he started on a trip to the Pacific slope, thinking that the change of climate would benefit him," the Illinois State Register reported on Jan. 3, 1890. "He had gone as far as El Paso, where he became violently insane, and died in a few days."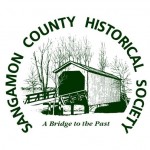 Hat tip: Thanks to Curtis Mann of Lincoln Library's Sangamon Valley Collection for additional research. 
Original content copyright Sangamon County Historical Society. You are free to republish this content as long as credit is given to the Society. Learn how to support the Society.