Carl Rinnus (1912-93) is best known as the sculptor/fabricator of the giant fiberglass statue of Abraham Lincoln that stands just inside the Main Gate at the Illinois State Fair. He also created another locally famous piece of Springfield sculpture, the concrete seal that once graced the now-demolished Bel-Aire Manor Motel, 2636 S. Sixth St.
Rinnus, however, was at his most prolific in the 1930s and '40s, when he regularly developed imaginative window displays for Herndon's department store, 321 S. Fifth St. A 1932 brontosaurus was the most memorable, he told State Journal-Register interviewer Mick Cochran in 1980.
I've done quite a bit of window sculpture for department stores over the years. Probably my best was a 50-foot dinosaur for Herndon's for a Christmas display. … Chicken wire and papier-mache. That's how we did it in those days.
Herndon's window was "laden" with toys and gifts, the Illinois State Journal said in a short article published when the window was unveiled.
The display that catches the eye, however, is a replica of a pre-historic dinosaur. The giant replica was made by Carl Rinnus, window trimmer of the firm. It occupies almost the entire length of the window. Its mechanism moves the head and eyes at will.
For "Baby Week" in 1934, Rinnus' window featured a giant stork, and when Lake Springfield opened in 1935, Herndon's window displayed a small version of the Vachel Lindsay Bridge, along with mannequins wearing bathing suits from the store's inventory. For the opening of the 1934-35 school year, Rinnus re-created a typical school room in the window, and the store's elevator was decorated to look like a little red schoolhouse.
Herndon's used its window to encourage war bond sales in July 1943, as Rinnus laid out all the articles carried by a typical U.S. soldier, accompanied by the price of each item in bonds and stamps.
By 1967, when Rinnus created the Lincoln statue, fiberglass had replaced papier-mache as his artistic medium. The image came from a postcard a friend gave Rinnus, he said in the 1980 interview.
"I made it outside my home in Athens, lying down in two pieces on (saw)horses. It had a welded frame covered with chicken wire, and the pants legs slipped over two telephone poles."

"I lived down the road and helped out," says Ben Wooley, a state employee. "I crawled inside and bolted it together. We hauled it to the fairgrounds on two trucks."

"It was quite a sight out in my yard," Rinnus adds. "Airplanes used to circle over when they'd see this 30-foot statue lying out there.

"I don't remember what they paid me to make it – it wasn't very much."
Rinnus' other longstanding piece of popular sculpture, the Bel-Aire Manor Motel's concrete seal, sat in the motel's swimming pool. At first, it balanced a metal ball on its nose; later, water spurted from the seal's nose.
The Bel-Aire apparently opened in the spring of 1953. (Its first mention in the Illinois State Journal was in the help-wanted ads that April: "WHITE MAID FOR SUNDAY WORK ONLY" was the advertisement's headline.) The motel later became notorious for drugs and violence. City officials tried unsuccessfully for years to force owners to upgrade the Bel-Aire. It finally was demolished in 2015.
The seal, however, was saved. Mayor Jim Langfelder bought the 8,000-pound statue for $2,500, and as of 2022, it was one of the exhibits at Route 66 Motorheads Bar and Grill south of Springfield.
Although Rinnus moved near Athens later in life, he lived in Springfield's Harvard Park neighborhood  for most of his working career. He led the effort to build the Harvard Park Community Center, which opened at 2525 S. 12th St. in 1950. (As of 2017, the building housed The Outlet, a non-profit youth mentoring agency.) Rinnus also served as president of United Cerebral Palsy of Sangamon County and was active with the Harvard Park Elementary School parent organization.
Rinnus is buried in Athens' Joel Hall Cemetery.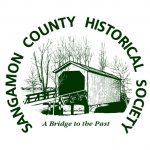 Original content copyright Sangamon County Historical Society. You are free to republish this content as long as credit is given to the Society.