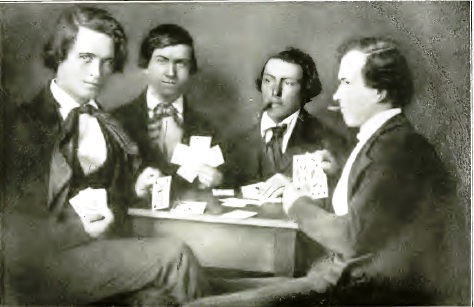 The four card players in this photo, thought to have been taken between 1840 and 1845, are believed to be, from left: Zimri Enos, an engineer, attorney and surveyor who left personal reminiscences that are important to understanding Sangamon County's pioneer history; James H. Matheny, a groomsman at the marriage of Abraham and Mary Lincoln; W. Gibson Harris, an attorney and Lincoln associate, at least in local politics; and Samuel Baker, possibly the same Samuel Baker who later served in the Civil War and founded a Logan County brick manufacturer.
This information has been corrected. SangamonLink originally identified the card players as, from left, Matheny, Harris, Baker and Enos; those identifications were based on the names given in the Illinois State Historical Society's Papers in Illinois History and Transactions for the Year 1909. However, the Papers of Abraham Lincoln project, working with Lincoln Library's Sangamon Valley Collection, eventually determined that the 1909 identifications were incorrect. (And thanks to Roger J. Norton for bringing this discrepancy to our attention.)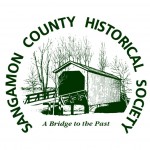 Original content copyright Sangamon County Historical Society. You are free to republish this content as long as credit is given to the Society.