Following the Civil War, Illinoisans decided their state constitution needed updating. Delegates met in Springfield from December 1869 until May 1870, and one of the issues they debated was whether to allow universal suffrage. The 15th amendment to the U.S. Constitution, which ensured the right of African-American men to vote, was ratified in the middle of the convention, on Feb. 3, 1870, so the major remaining question was whether the franchise should be expanded to women as well.
Delegates ultimately rejected that idea by a vote of 46 against to 12 in favor. The provision limiting access to the ballot box to men would remain part of the state constitution for 50 years.
Among those voting against woman suffrage at the convention was Judge James Washburn of Marion. He had also objected to allowing black men to vote, and at one point, he proposed that the constitution  require racial segregation in schools. Washburn was no progressive. Nonetheless, late in the convention, he made the following statement.
My opinion is that the tendency of the public sentiment of this day is towards the extension of suffrage, even towards universal suffrage; and that not many years hence – not to say months – we will have suffrage conferred on every human being of sound mind who is not a minor. I do not express that as my sentiment or feeling, but as a prediction; because there are but few persons, of whatever party predilections, who can stand up before the community and deny to any class of intelligent citizens the right to vote, even though they may have opposition to it, and although it may be against their better convictions.

The progress of events is like an avalanche, and we cannot stop it.
Washburn was wrong about the pace of women's suffrage. Staying with his geological metaphor, Illinois' movement toward allowing women to vote looks less like an avalanche than like erosion … a steady, but slow, drip, drip, drip. Sangamon County's experience with women's suffrage over the five decades following 1870 is a good example of the baby steps, compromises and contradictions that were part of that very gradual process.
The Illinois General Assembly took its first baby step in 1873, when lawmakers allowed women to serve as county school superintendents, even though they couldn't vote in superintendent contests.
First female candidate
The 1873 law was the impetus for the first female political candidate ever in Sangamon County: That year, the Farmers, Mechanics and Workingmen's Anti-Monopoly Association slated 23-year-old Mary Howard, who was from Pleasant Plains but taught at Springfield High School, for school superintendent. (Mary Howard later married William Miles. She died in 1913 and is buried in the Old Berlin Cemetery.)
The Anti-Monopoly Party held a variety of populist positions, but it also was viewed by many as a Republican attempt to split the local Democratic Party, and that was at least partly accurate. For instance, the Illinois State Journal, the Republican newspaper, listed both Republican and the Anti-Monopoly candidates in its pre-election coverage, although it did not publish the Democratic slate.
Mary Howard accepted the nomination in a letter to party secretary George Weber that also was printed in the Journal. It's a realistic statement of Howard's goals in standing for election.  She wrote, in part:
Dear Sir:

Although fully aware that the idea of a lady seeking office is by no means a popular one, I am thoroughly enough opposed to the monopoly of effeminate employment by men to be willing to accept the nomination of the Independent citizens of Sangamon county for the office of Superintendent of Schools. I am ready to make this venture, for the sake of seeing the question of woman holding office contested in our county. …

The voters of this county are now respectfully charged to verify by actual experiment, their time worn, but as yet undemonstrated assertions that women are incompetent to fill this office and that the holding of it will be demoralizing than teaching district schools.

With many thanks to the party who have proffered me their support, I subscribe myself to the public.

Very truly, yours,

MARY HOWARD
Of course, Mary Howard didn't win – in fact, although neither Springfield newspaper reported vote totals in the race, she almost certainly finished a distant third. But other counties were more welcoming. In the November 1874 elections, according to Mark Sorensen in Illinois Heritage magazine, 10 women were elected county superintendents in Illinois.
Court ruling
Women finally won the right to cast ballots, though on a very limited basis, in 1891, when lawmakers allowed women to vote in most school elections.
Proponents overcame the 1870 constitution's provision that voting was restricted to men by arguing that the limitation covered only offices specifically mentioned in the constitution. In a backhanded way, the state supreme court agreed with the law's supporters.
Ruling in a test case brought by a Chicago suffragist, the court found that it was unconstitutional to let women vote for county superintendents of schools (even though women had been eligible to serve as superintendents for nearly 20 years) because the office of school superintendent had been created by the 1870 constitution. However, the court noted, neither local school boards nor University of Illinois trustees were mentioned in the constitution.
So, the supreme court said:
It may be that it is competent for the Legislature to provide that women who are citizens of the United States and over 21 years age may vote at elections for school directors and other school officers who are not mentioned in the Constitution, but that question is not before us for decision and we therefore express no opinion in regard to it.
That ruling, or more accurately lack of a ruling, would shape women's access to the ballot in Illinois for the next 30 years.
First officeholder
Despite women's continuing inability to vote for county school superintendent, the first woman to hold an elective office in Sangamon County was Annie Rheem Hannon, who served as superintendent from 1892 through 1894.
Hannon's father, Noel Hannon, was elected school superintendent in 1890, but he died unexpectedly in February 1892. Annie Hannon had been her father's assistant, and, five days after Noel Hannon's death, the Sangamon County Board of Supervisors unanimously appointed her to take his place.
Annie Hannon then sought the Democratic Party's nomination to finish the remainder of her father's term in office. She defeated a male opponent in the county caucuses in April, by a single vote, and went on to rather handily beat Republican Lewis Grubb in November.
Surprisingly, there is no sign in the newspaper records that Hannon's gender was an issue in the election, and both the Republican Illinois State Journal and Democratic Illinois Register seem to have covered her activities in office the same way they would have done if she was male.
When Hannon sought a full term in office in 1894, the Register noted that she was "not a stranger to our readers. … While it was an innovation in this county to elect a lady to office, Miss Hannon has proven … that the old custom of electing men only is a rule which may be honored in the breach as much, at least as in the observance."
In another tight caucus race, however, Annie Rheem Hannon lost the 1894 Democratic Party nomination to W.B. Robertson of New Berlin. When Annie Hannon died in 1945, she was still the only woman to have won a countywide election in Sangamon County; it would be 11 more years before she lost that distinction.
(For more on Annie Hannon and Mary Howard, see Annie Hannon, first woman elected to public office.)
School suffrage
While Annie Hannon couldn't vote for herself, other women began voting for and seeking school board offices during the same period. School suffrage was somewhat the fashion in the early 1890s. Illinois, in fact, was the 23rd state – out of the 41 that then existed – to approve the principle.
The first opportunity most women had to cast ballots was in local school elections held throughout Illinois in April 1892. The Illinois State Journal found the results "worthy of note."
In many towns, afternoon teas, sewing circles and socials had been utilized as caucuses for organization and for the selection of a ticket. These organizations proved efficacious in many places, as the ballots controlled by the ladies gave them the balance of power and enabled them to elect their candidates.
In Pleasant Plains in 1893, the Journal, keeping to newspaper custom, identified two successful school board candidates by their husbands' names: Mrs. S.S. (Mary Harnett) Purvines and Mrs. W.L. (Mary Martin) Hamilton.
There was a backlash in Plains the next year, however. Again from the Journal:
PLEASANT PLAINS, April 23 – Considerable interest was manifested at our school election Saturday. On ordinary occasions about twelve votes are cast, but the women had a candidate up in the person of Mrs. Elizabeth Irwin, and stirred the men to unusual activity. Buggies were pressed into service by both sides during the afternoon, the ladies managing their own campaign. The men put up Mr. George Roby, and he was elected by only two majority. There was a grand jubilee after the election. Cannon were brought out and were fired in honor of the victory. There were previously two women on the board, but now there is none, for immediately after the result was announced, Mrs. Hamilton resigned and there will have to be another election to fill the vacancy. There was (no) question as to the qualifications of the lady candidate. It was for or against women holding office. Considerable bad blood was stirred up in consequence.
Elsewhere around the county, however, the 1894 school elections showed women becoming more confident and influential. Mary Rodgers Malouen defeated a male candidate to become president of the Riverton School Board; George Hesser, promising tighter financial management, got the women's vote in "the most exciting and hotly contested" election ever held in Illiopolis; and women made up a majority of voters in the South Springfield School District.  In Ridgely, which was an independent school district on what is now Springfield's northeast side, "a large number of the votes cast were by women," and in a contest that hinged on the male candidates' religion, the Protestant defeated the Catholic.
Over the next 15 years, female voters and candidates became routine in school elections – except in Sangamon County's largest community, Springfield. That's because in the 19th century, no one, man or woman, cast ballots directly for members of the Springfield School Board; instead, the city council chose board members.
In the decade between 1900 and 1910, however, Springfield's population grew from just over 34,000 to more than 50,000. Under state law, once the city's population reached 35,000, a different set of regulations governed the school board: the number of members was reduced from nine to seven; terms, which had been only one year, were lengthened to three years; and, most importantly, rather than the city council, board members were to be elected by the voters – who, under the 1891 school suffrage law, included women as well as men.
Two women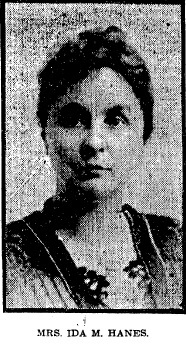 Springfield's first school board election was scheduled for April 4, 1911. Two women were among the 18 candidates listed by the Journal, which added, "It is predicted that a high class school board will be elected and that the women will have representation thereon."
Indeed, Ida Hanes (1862-1947) and Mary Morrison (1880-1939) finished third and fifth in the returns, meaning both were elected. Both also were re-elected several times, and both eventually served as school board president.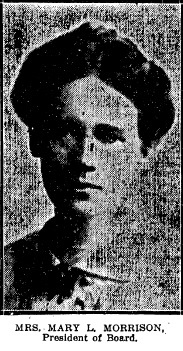 Despite their mutual gender, however, Hanes and Morrison turned out not to be in sync on policy matters. Morrison allied herself with Hugh Magill, school superintendent from 1913 to 1917, on such issues as construction of a new high school – today's Springfield High School – while Hanes found herself in the board's minority in opposing several Magill initiatives. The pro-Magill Illinois State Register identified Morrison with the "progressives," while Hanes, the paper said, was one of the "reactionaries." They also had a nasty public spat in 1921, when Morrison supported a school board resolution that had the effect of denying contracts to design two new schools to Hanes' son, architect Murray Hanes.
Ida Hanes served on the school board for 11 years. Mary Morrison held her seat for 12 years.
Magill role
Before he became city school superintendent in November 1913, Hugh Magill played an important role in the next step toward universal suffrage. Magill, a native of Auburn south of Springfield, had taught in the Springfield schools and served briefly as assistant principal of Springfield High. He moved to Princeton, Illinois, to become principal of the high school there in 1904. In 1910 and again in 1912 Magill was elected to the state Senate from Princeton.
As a politician, Magill was considered a progressive Republican, and when Grace Wilbur Trout of Chicago re-energized Illinois' suffragist movement in the early 1910s, Magill joined the effort.
The Illinois constitution remained a major obstacle to full voting rights for women, and some suffragists wanted to lobby for a state constitutional amendment. Trout and her Equal Suffrage Association, however, chose to take an intermediate step. They focused on the 1913 legislative session, settling on a bill sponsored by Magill to allow women to vote in presidential and municipal elections —  though still not for state and county government posts mentioned in the 1870 state constitution.
"After nearly three months of strenuous effort the bill finally passed the Senate on May 7th by a vote of 29 yeas (3 more than the required majority) to 15 nays," Trout later wrote. "It is doubtful whether we could have secured this favorable action had it not been for the good judgment and diplomacy of Senator Hugh S. Magill, Jr., who had charge of the bill in the Senate."
The House posed a stiffer challenge, right up to the day of the vote on June 11, 1913. Grace Wilbur Trout stationed herself outside the House door to keep suffrage supporters in the chamber and the opponents' lobbyists out. Finally, she wrote,
… there was a deafening roar and several men rushed out and exclaimed "We have won. The bill has passed." I remember turning my face to the wall and shedding a few quiet tears and when I looked around there were about ten men who were all surreptitiously wiping their eyes.
Gov. Edward Dunne, surrounded by suffragists and in front of movie cameras, signed Magill's bill on June 26, 1913, making Illinois the first state east of the Mississippi to give women the right to vote for president. The Journal published a summary of the new law.
The Magill suffrage bill … provides that women who are citizens of the United States and are 21 years of age, who have resided in the state one year, the county ninety days and the precinct thirty days preceding an election, may vote for the following statutory offices:

Presidential electors.
Members of Board of Equalization.
Clerk of Appellate Court.
County Collector and Surveyor.
Members of Board of Assessor.
Members of Boards of Review.
Sanitary district trustees.
All city, village and town officers except police magistrates.
Upon all questions or propositions submitted to the electors of such municipality or other subdivision of the state, and the following township officers:
Supervisor, town clerk, assessor, collector and highway commissioners, and at all town meetings in the township.

They cannot vote upon other offices (which are constitutional officers, provided for by constitutional provision) without amendment of the constitution of the state. Hence the limitations.
There were other loose ends too, such as the definition of "citizenship." An immigrant woman became eligible to vote merely by marrying a citizen, for instance, but unmarried immigrant women had to go through the full naturalization process – unless they had come to the U.S. at age 16 or younger, in which case again they automatically received voting rights at age 21.
(For more about the Magill suffrage law, see Women's suffrage in Illinois.)
The first important local election following passage of the Magill bill took place in Springfield in April 1914, when city voters were asked whether to ban saloons and the liquor trade. Under Illinois' 7-year-old "local option" law, individual townships could schedule referendums to decide whether to allow liquor sales. In the first set of local option referendums in 1908, 21 of Sangamon County's 27 townships voted themselves dry. However, Capital Township – the city of Springfield – which had more than 200 saloons, was, by a wide margin, one of the exceptions. The township also stayed wet in a second referendum in 1910.
Prohibition forces, however, were certain that a big turnout of women in 1914, made possible by the Magill bill, would shut down the saloons.
11,000 women register
Voter registration was to be accomplished on a single day, March 17, 1914, and registrants had to appear in person at their precincts to sign up. Before registration opened, city voting rolls contained the names of 10,808 men and only 663 women.
In deference to the expected flood of female applicants, precinct officials – who still were all men – made a major concession, the Illinois State Register reported: none of them would light up their cigars.
The election clerks of Capitol township – which is the city of Springfield – fought their first smokeless battle yesterday. Woman was being given her first opportunity to register on a regular intermediate registration day and in deference to the sex of their new fellows the election officials "chewed 'em." It is estimated that a near one thousand good "segars" went through the day without matches.

Whether in response to the favor just shown them, or because they were genuinely interested – why shouldn't they be with "wets" and "drys" haranguing them for weeks past? – the women came to the precinct polling places in flocks, clustered like daisies in the fields.

When the polls, which opened at 8 a.m., closed at 9 o'clock in the evening, Springfield had enrolled close to 10,000 new women voters and a good 2,000 new men voters.
The Register covered the registration outpouring by sending reporters to more than a dozen precincts. Despite some early 20th-century sexist fun –  some dispatches focused on registration fashion or on registrants supposedly being coy about their ages – the reports also demonstrate the depth of women's desire to cast ballots.
"It's been like this all day," said a clerk in the 38th precinct place of registration, 308 N. Fifth street. "It's seemed to me all Springfield's been coming around the corner and in here to register."

He swore in one group of eight women, all of them raising their right hands at once. Three others came forward to form a second group.

"Put your hand up, grandma, he's swearing them," said a ruddy faced little girl, pushing an old lady forward and into the group.

Grandma's cotton gloved hand went up and her eyes followed the lips of the clerk.
At city hall, where the 25th precinct registered,
One woman carried a heavy baby. As the minutes passed the baby grew heavier and heavier.

My, Peggy, but you're a load," she said now and then to the child. But she did not desert the line. She waited exactly 30 minutes to register. …

The 20th precinct voting place, 1487 Lowell avenue, at 2:30 pm. Had more the appearance of a day nursery than anything else. Numerous baby carriages stood outside. Numerous mammas were inside.

"Guess this precinct ain't the race suicide precinct," observed a bystander. …

In a garage at 426 S. Fourth street, the registration place of the 24th precinct, mistress and maid, washerwoman and boarding house keeper mingled. …

One woman, holding a small child by each gnarled hand, watched other women going through the registration mill without apparent interest, her eyes carrying only the expression one sees in the eyes of an overworked animal. Her body and the bodies of the two children were warmed by clothing too evidently cast off by persons more fortunate than they. When she stepped up to answer the questions put to her by the election officials, a stylishly dressed woman across the room remarked to a friend:

"For George's sake and that of the children, she's getting ready to vote next month. Do you have to guess how she will vote?"
There were still lines outside some precinct registration places at 9 p.m., but only those inside by that time were allowed to register.
According to the Register feature, the oldest woman to apply to vote was Catharine Bergen Jones of North Fifth Street. She was to cast the first ballot of her life at age 97.
(As her January 1915 obituary said, Catharine Bergen Jones was one of Springfield's "best known and most interesting characters."
(The daughter of pioneer minister Rev. John Bergen, Catharine Bergen Jones as a child met the Marquis de Lafayette on his last visit to America, the obituary said, and she maintained "an interest in current events and world topics until the last days of her life."
("During the last presidential campaign she was well informed and a contributor to President Wilson's campaign fund, for which the president in two letters thanked her, not only for her donation, but for her interest in the election. She was also active in the cause of temperance and cast a vote for prohibition at the last 'dry' fight in her ninety-eighth year. Mrs. Jones also showed much appreciation for the act of the park board in naming the newest park after her father as the Bergen park.")
Because of the multiple elections on the ballot April 7, men's and women's votes were counted separately. Going into the election, the Journal said,
(T)he fact that approximately eleven thousand women were registered and eligible to vote proved perplexing to leaders of both sides. … (P)oliticians and others who watch and keep check on the results of elections were puzzled and unable to reach any definite conclusion upon which to base an estimate of the probable outcome.
Results a shock
Nonetheless, both sides agreed that the results of the saloon referendum were a shock. Turnout among men was 90 percent, against 75 percent for women, but both men and women voted to keep Springfield wet.
"The vote of yesterday was more decisive in favor of the licensed saloon than in any of the previous elections held in this city upon which the voters were called to determine the saloon issue," the  Journal reported. "(T)he victory won by the liquor interests were made all the more noticeable by the large number of votes cast by women in favor of retaining the saloon."
After the votes were in, Springfield anti-saloon leader Dr. Hugh Morrison (husband of school board member Mary Morrison, who was re-elected the same day) said he wanted to be "counted as a good loser."
"A defeat is a defeat only to those who acknowledge it," he said, vowing to mount another local-option campaign as soon as possible.
Other "dry" organizers, most of them churchmen, were less gracious.
"The vote of the women is a sad commentary on women suffrage," said Rev. George Gunter of Second Presbyterian Church. "Something is radically wrong. Either woman suffrage is not what it claims or there is something rotten."
Elsewhere in Sangamon County that April, Margaret McElvain ran up a 3-1 majority over another bank cashier, A.O. Merriam, to become treasurer of Auburn and apparently the county's first elected female municipal official.
Presidential election of 1916
Women geared up again in 1916, when they had their first chance to vote for president. In Sangamon County, the Woodrow Wilson League organized Democratic women; the Hughes Alliance supported the Republican, Charles Evans Hughes. Hughes supported votes for women; at the time, Wilson did not, although he later changed positions. Illinois went for Hughes, but when Wilson was confirmed as the winner Nov. 11, the Wilson League helped organize a massive celebration and parade through downtown Springfield.
The Democratic Register, exulting over Wilson's victory, took note.
Woman, whose part in the re-election of Woodrow Wilson has been one of the unusual features of the remarkable campaign, played her part well in the demonstration last night.

The majority of the 200 autos in the procession were filled with enthusiastic groups of women who had voted and worked for Wilson. Others, cheering and laughing, walked on foot. School girls, business girls and many older women preferred this way of taking part in the parade.

One woman with a machine loaded to overflowing with small boys carried a banner that read: "I Didn't Raise My Boy to Be a Soldier." She was cheered merrily along the route of the parade. (Ed: The banner was a reference to Wilson's slogan, "He kept us out of war." The U.S. would enter World War I a few months later.)

One old lady, apparently post seventy-five, her face beaming beneath a shawl, walked the whole route of the procession while the crowds cheered her on.
1917 referendum: "Who'd a thought it?"
Meanwhile, prohibition advocates had been gearing up since 1914 to try for a fourth time to ban liquor sales in Springfield. This time the initiative succeeded – thanks to overwhelming support from women.
The anti-saloon forces had made two important changes since 1914. First, they hired a professional campaign manager from Michigan, J. H. Hammond, and, following his advice, they deemphasized church involvement in the effort.
As in the three previous local option referendums, a majority of men supported the saloons, Women, however – casting nearly as many ballots as men – reversed themselves from 1914, voting 61 percent in favor of prohibition. The total gave the drys a margin of almost 500 votes.
Saloon habitues expressed surprise at the results. "Who'd a thought it?" was the question posed by one "fat bartender who has mixed cocktails, fizzes, highballs, and other alcoholic concoctions in a downtown bar for twenty years," the Register reported. The city's saloons closed their doors more or less quietly a month later. (For more on this subject, see Prohibition referendums in Sangamon County, 1908-17.)
Saloon supporters announced plans to try to reverse the 1917 vote at the 1919 elections. By then, however, local option was no longer possible: the 18th (Prohibition) Amendment to the U.S. Constitution went into effect in January 1920.
The 19th amendment, which guaranteed women equal rights at the ballot box, was ratified eight months later, in August. (The first three states to approve ratification resolutions were Illinois, Wisconsin and Michigan on June 10, 1919.)
Postscript
Despite their new power to vote in all elections, political careers remained scarce for Sangamon County women for decades more. One opportunistic woman, Anna Plunkett, filed to run for Sangamon County auditor two days before the 19th amendment was ratified. Plunkett, a Democrat, garnered a respectable 7,000 votes, but still lost her race in what was, nationwide, the Republican landslide of 1920.
In 1939, Niana Converse Davis (1874-1958), a Republican from Capital Township, was the first woman to be elected to the Sangamon County Board of Supervisors. She spent most of her career overseeing the county detention home and poor farm, social service posts that were characteristic of many women in government.
When county auditor Eldon Becker died in office in 1954, his wife Sara (1919-2002)was appointed his replacement. She then won election on her own in 1956 and 1960, making Becker the second woman after Annie Hannon to win a countywide election in Sangamon County.
The first woman to win a county office she had not inherited was Josephine Oblinger (1913-1998), who was elected Sangamon County clerk in 1962 and went on to become this area's first woman member of the General Assembly.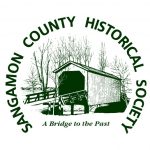 Notes: This entry is adapted from a presentation made by SangamonLink editor Mike Kienzler at the 2017 symposium of the Illinois State Historical Society.
This entry has been updated to correct the spelling of the first name of Catharine Bergen Jones.
Original content copyright Sangamon County Historical Society. You are free to republish this content as long as credit is given to the Society. Learn how to support the Society.