A gravestone at Oak Hill Cemetery east of Springfield pays tribute to a dog that, according to folklore, never recovered from the death of its young owner.
Maud Rodgers, who lived with her parents in the Riverton/Clear Lake area, died June 26, 1888. She was 17 years old. (Ancestry.com suggests her full name may have been Ellen Maud Rodgers; if so, though, she clearly was known by her middle name.)
The Illinois State Register reported on her funeral the following Saturday.
Miss Maude (sic) Rodgers, daughter of Samuel and Emma Rodgers, died at 11 o'clock Tuesday evening. She was sick only a few days, and up to a few hours before her death was not considered dangerous. Her loss to the family will be felt for many a day, as she was the pet of the household as well as the entire community. She was interred at Oak Hill cemetery at 10 a.m. Thursday. A large number of sorrowing friends followed the remains to witness the last sad rites. Mr. and Mrs. Rodgers have the sympathy of the whole community in their loss.
Although no cause of death was reported at the time, local legend, as reported in a 1974 State Journal-Register photo caption, says the young woman died of acute appendicitis.
As the story goes, Maud's dog, said to be a water spaniel, laid down at the gate to her house when Maud fell ill and refused to move until it, too, died. The Rodgers family then had a stone depicting the dog's vigil installed at Oak Hill.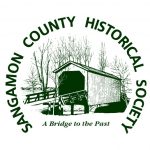 Although the folklore can't be confirmed today, the stone and its inscription – "Waiting for Maud/1870-1888" – suggest the story is essentially true.
Original content copyright Sangamon County Historical Society. You are free to republish this content as long as credit is given to the Society.