Fifty-one horses were "roasted and steamed to death" in a fire that destroyed a stable owned by Ira Dudley in the 900 block of East Washington Street on Sept. 15, 1915.
The fire was discovered by two men walking along Washington Street who saw flames leaping from the basement windows on the west side of the barn.
The Illinois State Journal had the story:
Like a majority of city livery stables, the horses are kept in the basement. Dudley had just received a consignment of horses yesterday and the basement was filled to its capacity. Among these were some of the most valuable Shetland ponies in the state. This particular breed Dudley makes a specialty of and has many blue ribbon winners in his stable. … But two of these ponies were reported saved at an early hour this morning.
The newspaper said it was "fall opening night"in the business district. "The streets were crowded with sightseers of both sexes and young and old. The fire was a greater attraction, however, and soon hundreds were lined in front of the scene of the fire."
An inventory the next day found that 51 horses died in the blaze. Sixty were saved. Dudley, who operated a hauling business, also lost 70 wagons and other horse rigs.
"I can't figure out how it started," Dudley said. "The place where it broke out was where we had been taking in hay all day and all hands had worked hard and late."
"The trapped animals lay in rows in their stalls," the Journal wrote, "and many of the carcasses were partly consumed by the flames, making a hideous but pitiful sight."
Dudley said he would remain in business with his 60 remaining horses.
Eight years later, Dudley (1880-1949) was involved in another celebrated Springfield case, the 1923 "wine to water" mystery.
City police had seized 2,200 gallons of wine made by bootlegger Charles Benanti, and Dudley was hired to haul the wine to St. John's Hospital for safekeeping. When the 38 barrels were tested two months later, however, they were found to contain dirty water, not wine.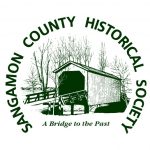 Dudley was charged with stealing the wine. At trial, witnesses said he had drained the barrels, replaced the wine with water and hauled the wine to his farm. Dudley, however was found not guilty.
Original content copyright Sangamon County Historical Society. You are free to republish this content as long as credit is given to the Society.