"Madame Brownie" (real name Augusta Kellogg) operated one of Springfield's best-known houses of prostitution for more than 35 years. She was 80 years old when she died in 1915, possibly following an altercation with an intoxicated customer.
Her Illinois State Register obituary was surprisingly laudatory.
Mrs. Kellogg … conducted a "house" at 729 East Jefferson street for forty years. Her place was one of the most orderly in the state and she had never had any trouble with the authorities. She was a peculiar character and spent a considerable amount in helping the poor and in other charitable enterprises. …

Mrs. Kellogg was known to have given much property away to deserving people and had always taken a hand in charitable enterprises, most of which were of a personal nature. Estimates of her wealth range from $200,000 to a half million dollars. She owns some fine residence property in Springfield and some farm land in various states.
Kellogg (1835-1915) first appears in Springfield records as the operator of a house of prostitution at 1016 E. Mason St. in 1874, according to Fever River Research's 2016 Phase II archaeological report on the Carpenter Street underpass. By 1879, however, she had moved operations to 729 E. Jefferson St., in the heart of Springfield's fabled "Levee" district, the report says. She remained at that location until her death.
Kellogg did use her legal name under formal circumstances, such as on U.S. Census forms and Springfield city directories, starting at least in the early 1900s. However, the name "Augusta Kellogg" never appeared in Springfield newspapers until the last few weeks of her life. Over the preceding 40 years and in dozens of newspaper reports, she was called, variously, "Jessie Brown," "Jessie Brownie" and, later, "Madame (or Madam) Brownie."
The 1910 Census identified her as Augusta Kellogg, a widow, and reported she lived at the 729 E. Jefferson address. She owned the building, according to the census document. Her occupation was listed as "Propritor" (sic) of a "Boarding House."
The census taker went on to list eight other inhabitants of the house – all women: Mable Page, age 26; Pearl Armstrong, 27; Stella Glenn, 21; Helen Moth, 22; Nancy Edwards, 35; Eliza Gross, 33; Nora Knox, 27; and Cecil Moore, 22. Edwards and Gross, the two oldest, were identified as servants (housekeeper and porter, respectively). No occupation was given for the others.
The obituary's comment that Kellogg/Brownie never had "trouble with the authorities" glosses over the kind of incidents typical of the prostitution industry. Newspapers regularly reported fights, raids and court actions involving Madame Brownie's house – even suicides by women who had worked there. A report published in the May 18, 1883, Illinois State Journal was typical.
A drunken row occurred at Madame Brownie's bagnio, some days ago, and during the disturbance one of the inmates had several ribs broken by a blow from her young man, who is said to be a highly respectable citizen (?). The affair was kept very quiet but leaked out.
Both the newspapers and local law enforcement authorities, however, tended to view Madame Brownie's and similar enterprises as minor, and often amusing, annoyances, not dens of vice that needed to be rubbed out. Here is how the Journal treated an 1885 incident.
A Chicago politician started out Wednesday evening to see the sights of Springfield, and chose for his escort a Springfield gambler. They secured a hack and induced two females from Madame Brownie's maisson de joie to accompany them. Nothing was too rich for their blood, and towards midnight they became somewhat hilarious, and the entire outfit were run in by the police and set down for trial in Thompson's court. The men did not appear for trial, but left a deposit sufficient to cover their fines. According to Thompson's record, the gambler was fined $3 and costs for disturbing the peace, $3 and costs for language and conduct, and $3 and costs for intoxication; John Brown (?), Maggie Buskirk and Fannie Starr were each fined $3 and costs for disorderly conduct. The feminine portion of the party told the 'Squire that John Brown (?) was a perfect gentleman and "hadn't ought to been" arrested. They were sure he was a gentleman of influence and refinement, because he wore a breast pin in the form of a gold star with an elegant diamond in its center.
Prostitution was part of a city council investigation in 1889, but the probe wasn't aimed at the city's madams: the allegation was that police officers were accepting payment of fines from prostitution operators, but not turning the money over to city magistrates. Eight madams, including "Jessie N. Brownie," testified that they paid their fines monthly, usually giving the money ($25 plus court costs was the standard penalty) to police officers who made the rounds of levee establishments.
Maggie Brown, another longtime local madam, explained the process to the council committee:
Mag Brown testified that she paid a fine every month, with the exception of the month when she was indicted by the grand jury. She always signed a bond for appearance and paid the officer the money, but did not appear in court. The warrants were sometimes read to her at 1 o'clock, 2 o'clock or 3 o'clock in the morning and on Sunday nights. She produced a number of receipts given her by Officer Enlow and gave them to the committee.
(Brown, whose house was at 118 N. Eighth St., appears to have been notable for her candor generally. The 1900 U.S. Census lists her occupation as "Ladie of Easy Virtue.")
Newspaper files do seem to confirm the obituary's claim that Madame Brownie had a charitable bent. As an example, she threw a ball at the nearby Longnecker dance hall in 1882 "for the benefit of the poor of this city," the Journal reported.
In 1877, a 16-year-old girl from Mattoon arrived in Springfield seeking work and somehow was guided to Madame Brownie's, according to a Register story. However:
(T)he madam, after questioning her, and becoming convinced that she was a virtuous girl, gave her a bed, and yesterday, to her credit, be it said, reported the facts to the marshal, and the result was that she was sent to friends.
A tramp interviewed by an anonymous Journal reporter in 1882 also testified to Madame Brownie's generosity: "Madam Brownie never turns anyone away, and she usually gives money, too," he said.
Kellogg died of pneumonia July 3, 1915, 10 days after she fell at her house, breaking her hip and collarbone. Police arrested Charles Metzger, a shoe clerk who was suspected of knocking Kellogg down during a drunken visit to the house, but he was exonerated by a grand jury.
Authorities at first discussed converting the building at 729 E. Jefferson St. to a detention home for juveniles, but public outrage quickly quashed that idea. In 1922, federal Prohibition agents raided a purported "soft drink store" that Mike Bamic was operating in the building. The address later became a truck dealership.
Augusta Kellogg is buried at the far north edge of Oak Ridge Cemetery.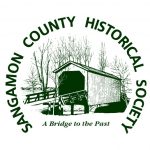 More reading: Fever River's Phase II report (linked above) is a very detailed source of information on the Levee and nearby vice districts in the late 19th and early 20th centuries. Two notes, however: Fever River says Mag Brown's house of prostitution was in the 100 block of South Eighth Street; the actual address was 118 North Eighth. The report also never makes a connection between Jessie Brownie and either "Madame Brownie" or Augusta Kellogg.
Original content copyright Sangamon County Historical Society. You are free to republish this content as long as credit is given to the Society.