Springfield's Mid-Day Luncheon Club played host to world leaders, past and future presidents, philosophers, magnates and monarchs in a speech series that lasted more than 50 years.
And then there was that totem pole.
The club was made official in October 1915 by 15 men who had been meeting semi-regularly for lunch at the Samovar Tea Rooms, 220½ S. Sixth St. The founders (informally known as "the Nut Club") were a varied group, including a rabbi, a music teacher, a pioneer weather forecaster, the curator of the Illinois State Museum, several physicians, a Single-Tax activist and poet Vachel Lindsay.
Midway Lunch's behind-the scenes maestro, however, was Elmer Kneale (1884-1944), secretary of the club from its founding until his death. For the next three decades, Kneale scoured The New York Times and other newspapers looking for well-known people who might be traveling near central Illinois. When he found one, Kneale wrote to invite the celebrity to address the Mid-Day club. A surprising number accepted.
Calvin Coolidge was U.S. vice-president when he spoke under club auspices at the Illinois State Arsenal on Abraham Lincoln's birthday, Feb. 12, 1922. But Coolidge played second fiddle to the club's other speaker that day – Gen. John G. Pershing, commander of American troops in World War I. (In keeping with his image, Coolidge sent back $6 change from his $125 expense honorarium.)
Former president William Howard Taft made "A Plea for Loyalty" before the club in December 1918. In turn, when Taft's son Robert, a U.S. senator from Ohio, was seeking the Republican nomination for president in 1940, he pitched his farm program in a Mid-Day Luncheon appearance.
William Jennings Bryan's topic in August 1917 was "Fundamentals," while Bryan's political and philosophical opposite, Socialist leader Norman Thomas, asked "Can We Manage Abundance?" in May 1934.
A 1940 Illinois State Journal retrospective (probably written by Kneale) of the Mid-Day Luncheon Club's first 25 years listed some of its guests:
Among the many famous speakers appearing before the club were men and women who have loomed large across the pages of world history of the past generation.

Of this notable company of guests of the club there may be enumerated former Premier David Lloyd George of England; former Premier M. Georges Clemenceau of France; Queen Marie of Rumania; Michael, Cardinal von Faulhaber, of Germany; William Jennings Bryan; Bishop William A. Quayle; Rabbi Stephen S. Wise; Gen. John J. Pershing; Calvin Coolidge; William Howard Taft; Sir Sayaji Rao III, maharajah of Baroda, India; Gen. Alvaro Obregon of Mexico; Dr. Royohiko Kagawa of Japan, and Dr. A.F. Winnington Ingram, bishop of London.

Famous personages more recently the guests of the club include Dr. Eduard Benes, former president of Czechoslovakia, and Crown Prince Olav of Norway.
Unmentioned in the 1940 article was the cavalcade of "film and radio stars" that was feted by the Mid-Day club on May 30, 1939. As was his wont, Kneale opportunistically scheduled a club luncheon when he learned the celebrities would be in Springfield for the world premiere of the movie Young Mr. Lincoln.
Radio commentator Lowell Thomas was the main speaker at the gathering, held at the Leland Hotel, while Twentieth Century Fox studio stars Alice Brady, Arleen Whalen, Binnie Barnes, Cesar Romero and Eddie Collins were introduced to the crowd. (Henry Fonda, the film's Lincoln, did not attend the premiere, while two of those who did – Barnes and Romero – didn't appear in Young Mr. Lincoln.)
Decatur Herald columnist David Felts described Kneale's technique for attracting big names as Mid-Day Luncheon speakers in 1965.
The president of the club, elected annually, introduced the distinguished guest. All other work was done by the permanent secretary, Elbert (sic) J. Kneale, a member of the business office staff of the Illinois State Register. Secretary Kneale made all arrangements for the luncheon, escorted the speaker to the rostrum, led the assemblage in song and took a discreet seat at the end of the speaker's table.

But earlier, often years earlier, he had made the original contact and obtained the promise to appear.

A careful newspaper reader, Elmer Kneale noted every election, appointment or succession to office not only in this country but abroad. He would write to the new President, governor, Prime Minister, King, ambassador – some say, the Pope – to remind him of Lincoln's Tomb in Springfield, Illinois, and to invite him, if ever he should come to Springfield, to address the Mid-Day Luncheon Club. He usually received a friendly letter – Elmer Kneale just happened to be a collector of autographs – often a tentative acceptance and enough actual appearances to supply the club with interesting programs.
Controversies
Kneale's wide-ranging approach, however, sometimes came a cropper. In 1934, Hans Luther, Nazi Germany's ambassador to the U.S., was scheduled to be one of the speakers for the club's annual Lincoln's birthday observance at the state arsenal. Aside from the potential insult to Lincoln's memory, the invitation was doubly ham-handed, because Gov. Henry Horner was Jewish.
"As governor of the state, I suppose I would have to welcome the German ambassador," Horner said, "but as Henry Horner, I'd have nothing to do with Hans Luther. The Hitler flag to me is a flag of hate."
The Mid-Day Luncheon Club canceled the 1934 event, which also was to have featured the Italian ambassador and Kansas Gov. Alf Landon, who two years later became the Republican candidate for president.
Similarly, for Lincoln's birthday in 1936, Kneale set up a debate matching Harold Ickes, one of President Franklin Roosevelt's top aides, against Georgia Gov. Eugene Talmadge, a leading opponent of Roosevelt's New Deal. Talmadge also was an ardent segregationist, which prompted a strident objection from Dr. D.E. Webster of the Springfield NAACP.
"We of Springfield can only bow our heads in shame," the statement read. "It is beyond us why a man of the caliber and record of race-hatred was ever chosen to pay tribute to the great Lincoln. This man represents everything that is opposed to Lincoln. It is an insult to every colored citizen who cherishes the name of Lincoln."
This time, the Mid-Day Club went through with its plans, although Ickes refused to be photographed shaking Talmadge's hand. The musical entertainment for the event, meanwhile, was presented by the Lincoln Liberty Chorus, an all-black local choral group. The NAACP also objected to the chorus's participation, but added, "we hope their appearance will soften (Talmadge's) heart toward the colored citizen."
Museum totem pole
The club took on a different task in 1945, financing the shipment of a Native American totem pole carved in the image of Abraham Lincoln from Alaska to the Illinois State Museum.
Illinois state historian Jay Monaghan (1891-1980), who tracked down the totem in Alaska in 1945, was the source for the romantic version of the pole's origin – that it was carved in the 1860s by members of the Raven tribe of Alaskan Indians, who feared enslavement by the rival Eagle clan. At the last moment, however, the Ravens were told by the captain of a U.S. revenue cutter that the U.S. had outlawed slavery.
The Illinois State Journal reported the conclusion of Monaghan's story in an article the week before the totem pole was presented to the state museum.
"… A man by the name of Abraham Lincoln had signed an emancipation proclamation which freed all men from bondage.

"The Indians were happy. They followed the cutter to the cluster of islands south and west of the Prince of Wales archipelago. There they built a village and erected a great totem pole 50 feet tall, with an eleven foot raven at the bottom, and Lincoln, life sized, on top."
According to a video presentation on the state museum web site, however, Monaghan's totem actually is a 1930s' reproduction of a "proud raven" totem originally created in 1883 by a Native American carver in Tongass, Alaska. The carver, however, had never seen anyone of European descent in the flesh. The only image he had to work with was a Lincoln portrait on the wall of a nearby government building, and that's why a figure of Lincoln sits atop the totem.
The Mid-Day Luncheon Club's cost to ship the totem to Springfield is not known. For that matter, no one knows either what Monaghan paid to buy the totem in Tongass – except that, in addition to money, the stipulated price included a case of Coca-Cola and a carton of fresh oranges.
Monaghan's original totem is now preserved in the museum's Research and Collections Center. A full-scale fiberglass replica stands outside the museum's main entrance at Spring and Edwards streets.
Later years
Even at the height of the group's activities, Mid-Day Luncheon Club events often did not involve lunch and frequently were held in the evenings. A lot depended on the schedules and popularity of the speakers.
The club continued to attract nationally prominent speakers for some years after Kneale's death – for instance, Vice President Alben Barkley was featured at the club's 1949 Lincoln's birthday commemoration.
The club had 1,000 members when Kneale died. Without Kneale to obsessively invite prominent speakers, however, the club gradually lost influence, and in its last years, meetings most often focused on travelogues. The Mid-Day Luncheon Club apparently went out of business in the early 1970s.
Elmer Kneale
Elmer Kneale was either a genius – that was the title of an Illinois State Journal-Register editorial upon his death: "Elmer Kneale, genius" – or a colorless cipher.
Kneale never married and lived his entire life in the home his parents owned at 1224 N. MacArthur Blvd. He spent 37 years working in the accounting department of the Illinois State Register, where his main duty apparently was collecting overdue bills.
He focused his life on the Mid-Day Luncheon Club, on the outdoor summer religious services held for years by local Protestant churches (Kneale founded the program), and on classical church music. In addition to organizing music for the outdoor services, Kneale himself was a talented vocalist who performed frequently in Springfield.
Literary outsiders tended not to be impressed by Kneale. Novelist Vladimir Nabokov, who spoke to a Mid-Day Luncheon in November 1942, described Kneale, in a letter to his wife, as "a creepily silent melancholic of somewhat clerical cast with a small stock of automatic questions, which he quickly exhausted."
According to a 2012 Illinois Times article about the Nabokov/Kneale interaction, the only sign of passion Nabokov detected in Kneale was when the subject turned to flagpoles – Kneale was inordinately proud of the 80-foot-tall flagpole he had had erected in his own back yard. (It is still there, visible for blocks above the trees on Rutledge Street.)
Nabokov's letter was reprinted in a collection, Letters to Vera (2015), and quoted by The New Yorker. Karen Fitzgerald, who wrote the Illinois Times article about the letter, added more details in her (apparently inactive) blog, springfieldskinny.
Kneale cast a large enough shadow in Springfield that Elise Morrow devoted nine paragraphs to him in a Saturday Evening Post article about the city that was published in 1947, almost four years after Kneale died. There's no indication in the Post story that Morrow ever met Kneale. Nonetheless, she recounted a story about him that, she said, demonstrated he had "the humorlessness of an absolute fanatic." (The story, which suggested Kneale had never heard of Al Capone, probably was apocryphal.)
More fairly, Morrow added that Kneale "reflected something that exists in Springfield, a wide-eyed and somewhat unfocused devotion to the Great World, and to culture in all its obscure and wonderful forms. …"
Locally, when Kneale died, he was eulogized by both the Register's V.Y. Dallman and the Illinois State Journal's A.W. Bowen. "He was 59 years old," Bowen wrote.
During the last 25 years he has been one of Springfield's most useful citizens. Possessing neither wealth, social position nor business prominence, he undertook to bring to Springfield, through the power of Lincoln's name, all those who could find inspiration at his feet. How well he succeeded the long list of the world's greatest men and women who have spoken before the Mid-Day Luncheon club is proof.
Dallman repeated a story often told about Kneale, dating from when Register publisher Thomas Rees, touring Rome, Italy, was asked where he lived.
When he replied that his home was in Springfield, Illinois, an Italian dignitary, who was manifesting much interest in him, exclaimed: "Springfield! Oh yes, the home of Honorable Elmer Kneale."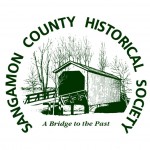 More: For another Elmer Kneale project, see Charles Darwin letters, Illinois State Register (1914).
Hat tips: To Karen Fitzgerald and Illinois Times for alerting us to the Nabokov letter and to A Springfield Reader, edited by James Krohe Jr. (1976), which includes the full text of Elise Morrow's 1947 Saturday Evening Post article.
Original content copyright Sangamon County Historical Society. You are free to republish this content as long as credit is given to the Society.