Benjamin "Mr. Ben" Victor (1908-88) was a Springfield pharmacist, founder and chairman of Illinois Thrifty Drugs, and philanthropist.
The fall 2000 edition of Aspects magazine, published by Southern Illinois School of Medicine, synopsized Victor's business and charitable activities. The profile was part of an article on SIU's Pearson drugstore museum, which was one of Victor's beneficiaries.
Victor also contributed to other Springfield medical charities, and he and his wife Devera established the Michael Victor Art Library at the Springfield Art Association in memory of their son.
In a 1978 oral history interview conducted by Josephine Saner, Victor recalled how family friend Lee Hickox helped him borrow the money to buy his first pharmacy.
(H)e said, "Now, Benny what is that advice you want from me?" I says, "Uncle Lee, the Doty Drug Store has gone bankrupt, and they will sell it for eleven hundred dollars, and I'd like to buy it, and I'd like your advice."

He looked me right in the eye, and he says, "You don't want my advice; you want to know if I'll finance it for you." (laughs) It's just like getting caught with your hand in the candy jar. (inaudible) He said, "I will."

Now, that was the day before Christmas; he says, "I'll meet you the day after Christmas; I'll pick you up and take you down to the bank." He picked me up and went down to the bank; he says, "Now you want fifteen hundred dollars."

I said, "No, it's only eleven hundred dollars." He said, "Fifteen hundred dollars." I said, "No, it's only eleven hundred dollars." He says, "You need working capital." I says, "what's that?" (laughs) And then he proceeded to explain what working capital was and why businessmen need it.
Ben Victor is buried at Oak Ridge Cemetery.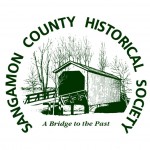 Original content copyright Sangamon County Historical Society. You are free to republish this content as long as credit is given to the Society. Learn how to support the Society. 
.