Isaac Gaskin (ca. 1847-1900), born a slave in Mississippi, served with the 29th Regiment of U.S. Colored Troops during the Civil War and was captured by Confederates in the botched Battle of the Crater outside Petersburg, Va., on July 30, 1864.
Gaskin moved to Springfield following the war and became one of the founders of the John Bross Post of the Grand Army of the Republic. (The Bross Post was for African-American Civil War veterans.) Gaskin was involved in local politics and also "was very active in various organizations," according to Kathleen Heyworth's Private Lewis Martin and African-American Civil War Soldiers in Springfield, Illinois (2015).
Gaskin detailed his experiences as a Confederate prisoner of war in a letter published in the Illinois State Journal on Oct. 21, 1889.
EDITOR JOURNAL: Thinking it might be of interest to some of my old comrades, I will relate the experiences of a colored prisoner of war in a rebel prison pen. I am a native of the State of Mississippi and was a slave until I was sixteen years of age, when I made my escape from my master in the spring of 1863 and came to Illinois, and enlisted in the city of Chicago soon after my escape. I enlisted in a colored regiment, organized by Col. John A. Bross of Chicago, a brave and gallant officer, who was killed in the battle at Petersburg, Va., on the 30th day of July 1864, where I was taken prisoner of war while in battle. My first experience in battle was in the battle of the wilderness. I was in several engagements before I was taken a prisoner at Petersburg, and I think I have some idea of what soldier life was. The battle at Petersburg lasted several hours before we were overcome by the enemy.

After I was made a prisoner I was shot at by a rebel guard and my cartridge box entirely carried away and my hip severely injured. Just before firing at me he, with an oath, called me a damn nigger and said if he had knowed I was a nigger he would have never taken me prisoner, but that I had so much of that damn Yankee blood over my face that he couldn't tell what I was. He said he did not recognize any damn Negro as a prisoner of war and that I would never get back to my brother Yankees alive.

I was imprisoned at Danville, Va., and the second day after my imprisonment there, while passing a rebel guard, he seeing I was colored, struck me with a musket in the left side, causing very severe internal injuries, from which I have never recovered. I laid unconscious from 8 o'clock in the morning until late at night. I never could pass a guard after that that did not give me a blow with whatever was most convenient.

I never knew what it was to get anything respectable to eat while in prison, and there was not one third enough of the vile stuff that was given us. We were marched out every morning about 8 o'clock to build breastworks, and without anything to eat. They kept us separated from the white prisoners. Rheumatism, scurvy, etc., soon set in and I was unable to walk, and had to crawl around the best I could. I also suffered from frozen feet while in prison. The shoes I wore when taken prisoner were taken away from me by the rebels, soon after my capture.

When I was exchanged I was unable to walk was almost naked, and had running sores all over my body. I was a prisoner from the 30th day of July 1864 to the 17th day of February 1865. When I was exchanged, I had to be carried from the rebel exchange boat over the the Union boat by the Union soldiers.

I do not only know this myself, but have the proof of several colored comrades, who were there and suffered as much as I did. I was punished severely on account of my color. Out of 180 colored prisoners taken, only seven survived.

ISAAC GASKIN
Hat tip: This letter is published in Private Lewis Martin and African-American Civil War Soldiers in Springfield, Illinois, by Kathleen Heyworth (2015), which is an outstanding work of local history. Heyworth also played a key role in the placement of a gravestone and historical marker on Martin's previously unmarked grave at Oak Ridge Cemetery. Our thanks to Heyworth for bringing the book to our attention.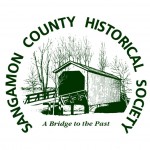 Private Lewis Martin is available at Prairie Archives bookstore on the Old Capitol Plaza in Springfield at $10 per copy. The book is $12 (postpaid) directly from Heyworth; email kathyheyworth@gmail.com.