Two men were killed and eight other people injured in frenzied hammer attacks that took place in Springfield on Aug. 4, 1975.
Frank Sherry (1950-2004) later pleaded guilty to voluntary manslaughter in a deal agreed to by relatives of the victims. He served 13 years in prison. After his release, Sherry became a minister to inmates.
Prosecutors said Sherry, 26, had been drinking and taking PCP, a powerful animal tranquilizer, for several days before the attacks. Presumably as a result, he was in a psychotic state when he attacked his victims, Sangamon County State's Attorney William Roberts told reporters. That led to the manslaughter plea, Lee Aschoff reported in The State Journal-Register.
"As a result of this psychosis, Mr. Sherry felt the persons he attacked were attacking him and he was defending himself."

Roberts said he agreed to dismiss murder charges against Sherry because he could find "not a shred of premeditation or motive," which is necessary for a murder conviction.
The two dead men, Mercer Hopper, 67, and Tompson Dace, 74, were remodeling an apartment in Sherry's building at 216½ E. Scarritt St. when Sherry attacked them. Sherry assaulted another man next door and then went to a Thrifty Drug Store at 1400 S. Sixth St., where he attacked the other five people.
Two of those victims were the wife and granddaughter of Edward Cropp, 63, who subdued Sherry despite the fact that Cropp had the use of only one arm.
"When he hit that kid, I went crazy, almost," Cropp said. "If it had been any kid, I would've.

Cropp, who was struck five times by the assailant, said a stroke several years ago immobilized one of his arms.

"I just wrestled him down and took the hammer away from him" …, he said.
Sherry was released from prison in 1988 and founded The Lord Looseth the Prisoner Ministries in Heber Springs, Ark. He died in 2004 in Heber Springs.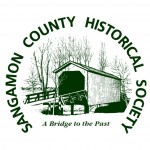 Original content copyright Sangamon County Historical Society. You are free to republish this content as long as credit is given to the Society.