Curran was founded in the 1830s and laid out in the 1850s, when a store and post office also were established. However, the community wasn't formally incorporated until 2005, when area residents decided to seek aid to build a sewer system. Curran celebrates the incorporation of the village every Sept. 16, "Curran Day."
Founders Thomas Moffet and A. J. Vanderen named the community after "General" Isaac Curran, a Springfield jeweler, politico and man about town. Curran, whose rank dated from his 1840s' appointment as Illinois quartermaster general, was a close associate of Gov. Joel Matteson and Stephen Douglas. In 1862, President Abraham Lincoln named Curran consul to the Grand Duchy of Baden in Germany.
Curran had a population of 212 in 2010. Much more information on the village is available in its comprehensive plan, completed in 2012. However, the plan is incorrect when it says Isaac Curran's jewelry store was in the village of Curran; it was on the south side of the Springfield square.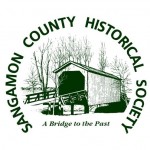 Original content copyright Sangamon County Historical Society. You are free to republish this content as long as credit is given to the Society. Learn how to support the Society.