A contract to build a home for the custodian of the Lincoln Tomb was awarded to Col. James Culver's contracting company in August 1895. The cost was $2,500, and the design was very specific.
The Illinois State Journal spelled it out: "The house is to be fire proof with stone exterior, two stories high, Norman Romanesque style with turret on the southwest corner." The building's castle-like looks were in keeping with Gov. John Peter Altgeld's architectural preferences.
A few years later, Culver was called back to expand the house to almost twice its original size and add a porch, creating today's structure.
Four of the five tomb custodians (the first custodian, John Carroll Power, died the year before the house was built) lived in the home – Maj. Edward S. Johnson, Herbert Wells Fay, Earl Owen Fay and George Cashman (the home was nicknamed "Cashman's Castle" during his tenure).
When the state of Illinois reorganized management of the tomb following Cashman's retirement, the position of custodian was abolished – Carol Andrews' title was "site superintendent" – and the home was converted to site offices.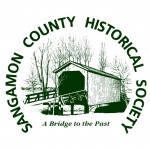 Original content copyright Sangamon County Historical Society. You are free to republish this content as long as credit is given to the Society. Learn how to support the Society.