The first Europeans settled near what is now Pleasant Plains about 1819, and a "Mr. Spillars" was operating a horse-powered grist mill by almost the same time.
From the 1830s to the 1850s, a stagecoach line connected Springfield to Beardstown, and the settlement that became Pleasant Plains grew up where that line crossed Richland Creek. Moses Broadwell's inn at Clayville, 1 mile east of what is now Pleasant Plains, was the first stagecoach stop out of Springfield westbound.
Jacob Epler, who opened a general store in 1849, and John Adams' blacksmith shop (1853) became the nucleus of the village, and Epler platted Pleasant Plains.
The village of Pleasant Plains was incorporated in 1864.
Named: The first occurrence of the name "Pleasant Plains" was in connection with a small Methodist church built in 1838, a few miles north of the village, by famed preacher the Rev. Peter Cartwright.  According to "History of Pleasant Plains," an unbylined, undated paper apparently written about 1973, the area generally is a rolling plain and was commonly referred to as "the plains."
"'Pleasant' could have been added on to make it sound more appealing," the paper speculates. The paper is in the collection of Lincoln Library's Sangamon Valley Collection.
Other: The Pana, Springfield and Northwestern Railroad was built through Pleasant Plains in 1872; the village rail depot closed in 1962. Several coal mines were located in the area over the decades, including the Happy Hollow coal company, which was organized in the 1900s and remained in operation until 1949.
The Pleasant Plains Historical Society was formed in 2009 to preserve the Broadwell Inn and Tavern at Clayville, a mile east of Pleasant Plains on Illinois 125. Clayville is on the National Register of Historic Places.
Notable residents: The Rev. Peter Cartwright (1785-1872) moved into what was later named Cartwright Township in 1824. In addition to being a circuit-riding preacher, Cartwright was a well-known opponent of slavery and was involved in Democratic politics. He defeated Abraham Lincoln, among others, for the Illinois House in 1832, but lost to Lincoln for a Congressional seat in 1846.
Pleasant Plains natives Glen and Evelyn Brandt developed Brandt Fertilizer, which later branched out into a variety of agricultural specialty products.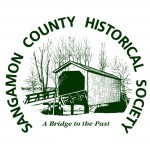 Today: Pleasant Plains, 17 miles west of Springfield on Illinois 125, had a population of 802 in 2010.
Original content copyright Sangamon County Historical Society. You are free to republish this content as long as credit is given to the Society. Learn how to support the Society.