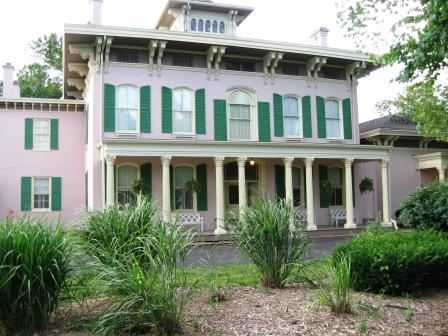 In 1833, Dr. Thomas Houghan, an early Springfield physician, built a 1½-story brick house in a 14-acre grove of elm, walnut, and maple trees on the northern edge of Springfield. The home, greatly altered over the years, now is the Springfield Art Association's Edwards Place. It is considered the oldest house in Springfield on its original foundation.
Houghan sold the house in 1843 to Benjamin S. and Helen Kissam Dodge Edwards for $4,000.
Benjamin Edwards,  born in 1818, was the youngest son of Ninian Edwards, the first territorial governor of Illinois (1809-1818) and third state governor (1826-1830). After graduating from Yale and studying law there, the younger Edwards came to Springfield in 1840 and practiced law and rode the circuit with Abraham Lincoln. In 1843, Edwards associated with John T. Stuart. He later served as a Sangamon County circuit judge.
Benjamin and Helen Edwards made their home a center of Springfield's early social and political life, often entertaining when the Illinois legislature was in session. The grove surrounding their home, Edwards Grove, became locally famous for its political rallies, bonfires, picnics and barbeques. Guests at the home included Abraham and Mary Lincoln, Ulysses S. Grant, Stephen A. Douglas, Lyman Trumbull, John Hay, and Sidney Breese. In 1840, the Whigs, supporting Henry Harrison, staged a parade that ended in a rally of a reported 15,000 people assembled in Edwards Grove.
Edwards supported Douglas during the 1858 Lincoln-Douglas U.S. Senate campaign. Douglas and his supporters arrived at Edwards Grove on a chartered train and joined a large crowd gathered there to hear Douglas speak.
In May of 1865, the house was opened to guests who came to Springfield to attend Abraham Lincoln's funeral. The Lincoln funeral cortege passed by the Edwards home.
The house contains oil portraits of Benjamin and Helen Edwards and Ninian and Elizabeth Edwards by George P.A. Healy, a well known portrait painter of the 19th century. It also contains a black horsehair Empire-style courting sofa from the Ninian Wirt Edwards home that was used by Abraham and Mary Lincoln in their courting days.
Benjamin Edwards died in 1886 and Helen in 1909.The house was inherited by their daughter, Alice Edwards Ferguson, who donated the house and grounds to the Springfield Amateur Art Study Club in 1913. The name of the club was changed in 1915 to the Springfield Art Association of Edwards Place. The house has functioned since as the association's club house, museum, and art school.
The association preserves the house and uses it to provide visual arts educational programs, tours and exhibits. The association also recently began an initiative to emphasize Edwards Place's historic role in the community and its connections to Lincoln and the history of Springfield.
Alterations
Shortly after taking up residence in 1843, Benjamin and Helen Edwards added several rooms to their new house. A kitchen was added to the northwest, adjacent to the original kitchen. On the east side of the house, an original summer kitchen and attached outbuilding were converted to interior space, and two parlors were added. These renovations more than doubled the square footage of the house, providing room in which the growing Edwards family could live and entertain.
In about 1857, the Edwards family hired the architectural firm of Boyington and Wheelock of Chicago to draw plans for a grand renovation of the house. These plans called for a large addition to the east featuring a three-story tower at the reoriented front entrace. However, this house was deemed too expensive to construct, and the plans were never realized. Instead, the house was remodeled in 1858 to a more conservative version of Boyington and Wheelock's initial plans.
Although the square footage was not greatly increased, this addition transformed the house from a vernacular Greek Revival dwelling to a fashionable Italianate mansion. The extremely wide eaves at the front of the house are supported by spaced and paired brackets. The hip roof is crowned by a low square cupola, which helps cool the house in hot weather. Across the front of the house is a pillared porch of Corinthian design.
Edwards Place is listed on the National Register of Historic Places and as a city of Springfield landmark.
See also: Hidden in Plain Sight: The Material World of Early Springfield. This Springfield Art Association website, compiled by SAA curator of collections Erika Holst, had material posted, but was still in development as of mid-2014.
Contributors: James Krohe Jr. and Richard E. Hart
Other sources
Historic Homes of Springfield, Floyd S. Barringer, M.D., 1966.
Lincoln's Herndon, David Herbert Donald, 1948.
Illinois State Register, February 5, 1886.
Reminiscences of the Early Bench and Bar of Illinois, Usher F. Linder, 1879.
The Bench and Bar of Illinois: Historical and Reminiscent, John Palmer (ed.) 1899.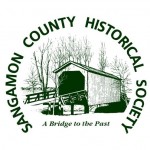 Original content copyright Sangamon County Historical Society. You are free to republish this content as long as credit is given to the Society. Learn how to support the Society.