In a Jan. 29, 2015, talk introducing her new book, Mary Lincoln: Southern Girl, Northern Woman, Stacy Pratt McDermott, assistant director/associate editor of the Papers of Abraham Lincoln, listed 10 things she wanted her audience to know about Mary. No. 1 on the list was:
There was no person named "Mary Todd Lincoln." Until her sister Ann was born, she was Mary Ann, and after that, she was Mags. When she arrived in Springfield in 1839, she was Mary Todd, or Miss Todd, or Molly, a pet name.

When she married Abraham Lincoln on Nov. 4, 1842, she became Mary Lincoln. She called herself Mary Lincoln, Mrs. Lincoln, Mrs. Abraham Lincoln. She signed all of her correspondence "Mary Lincoln," "Mrs. Lincoln," "Mrs. Abraham Lincoln" or "M-period, L-period." Well, sometimes she didn't put the periods.

Mary Lincoln was typical of most 19th-century women who took their husband's name. She took Lincoln's name, and she never gave it another thought. She was Mary Lincoln until she died.

I suppose – I've tried to figure this out – but I suppose the feminist historians started this "Mary Todd Lincoln" thing. But it is a historically inaccurate monicker for her.

It makes me nuts. So don't use it.
The other nine things on McDermott's list were:
The Lincolns' marriage was a companionable one.
Abraham Lincoln did not travel Illinois' 8th Judicial Circuit to get away from Mary.
Mary's interest in politics was extreme, but was firmly rooted in 19th-century gender roles.
Mary was extremely well-educated for a woman of the time, to the extent that, when she arrived in Springfield in 1839, she would have been the "most educated, and likely the most sophisticated, and probably the most intelligent lady in town."
Her suffering was real, with much of it — migraine headaches, early emotional issues and physical problems resulting from the difficult birth of her fourth son, Tad — preceding the tragedies that befell her later in life.
Mary was a "hip mom," indulging her children both in Springfield and later in Washington.
There was much more to Mary's experience in Washington, D.C., than overspending on White House decor.
It was due only to Mary's determination that her husband was buried at Oak Ridge Cemetery. (Editor's note: See also Lincoln Tomb: Battle of the Gravesite and Lincoln Tomb: Mary Lincoln letters about location.)
Following her husband's assassination, Mary lived for seven years as an expatriate in Europe, to a large extent because of incessant, vicious press attacks on her during her widowhood.
Mary Lincoln once said, McDermott reported, that she hoped to be buried between the remains of President Lincoln and Tad.
In the Lincoln Tomb State Historic Site today, however, the crypt where Mary is interred is across a hallway from the grave of her husband and separated from Tad's by the resting places of two of her other sons, Edward and Willie.
The name inscribed on the crypt? "Mary Todd Lincoln."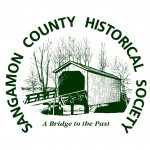 Original content copyright Sangamon County Historical Society. You are free to republish this content as long as credit is given to the Society.